Newsletter - March 30, 2021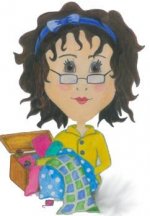 SHARYNN'S QUILT BOX
890 S. STATE STREET
P.O. BOX 1041
NORTH VERNON, IN 47265
812-346-4731
March 30, 2021
The 15th Annual Charming Shop Hop will be next week beginning on Monday, April 5th and continuing thru Saturday, April 10th. Hours are 10-5 each day.

Several things you should take note of….if you have a passport from last year, it is still good and will be honored this year. If you did not buy a passport last year, you will need to purchase one for this year.
Also, Sharynn's Quilt Box is not normally open on Mondays but we will be open Monday, April 5th for this Shop Hop. And we will be here until 5 p.m. each day.
There are seven shops participating:
L & L – Madison, IN
Margie's – Madison, IN
Sharynn's Quilt Box – North Vernon, IN
Tree City Stitches – Greensburg, IN
Quilter's Nook – Versailles, IN
Quilter's Garden – Lawrenceburg, IN
Small Town Stitches – Seymour, IN
There are lots of prizes including a Janome 3160QDC sewing machine. Seven (7) $25.00 gift certificates and seven (7) $50.00 gift certificates. A basket of 70 fat quarters and seven (7) in store gift baskets.
So come and join in the fun. We are looking forward to seeing everyone again.
We will also be participating in the Southern Indiana Shop Hop to be held June 23rd thru June 26th. We will have passports to sell at the Charming Shop Hop!
Up-Coming Events:
Sharynn's Stitching Friends - April 10th at 9 a.m. Come and join in the fun.
We will resume our Sit 'n' Sews beginning April 28th. We are so looking forward to this. Time will be 1 p.m. to 3:30 p.m. Get your girlfriends together and come sew with us.
We are again going to offer some classes. What would you like to learn? Call the shop and ask for Pat. Let us know!! These classes will be in person and limited in number of persons that can attend.
We want to wish you all a very Blessed Easter….He Is Risen!