Newsletter - April 5, 2021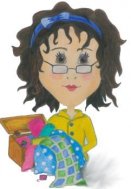 SHARYNN'S QUILT BOX
890 S. STATE STREET
P.O. BOX 1041
NORTH VERNON, IN 47265
812-346-4731
April 5, 2021
This will be short as we will begin the Charming Shop Hop today!! We are looking forward to seeing everyone and connecting once again with all of our sewing friends!
Since the Shop Hop runs thru Saturday, April 10th, we will NOT be having Sharynn's Stitching Friends. We realize that some won't be able to come but we are planning to have our meeting on April 17th. So if you are able, come join us at 9 a.m. here in our classroom.
Be sure to come see us this week. We will be here 10-5 each day! Then next week we will go back to Tuesday, Wednesday, Thursday and Friday 10-4 and Saturday 10-2.