Newsletter - April 13, 2021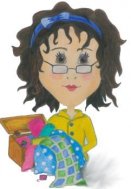 SHARYNN'S QUILT BOX
890 S. STATE STREET
P.O. BOX 1041
NORTH VERNON, IN 47265
812-346-4731
April 13, 2021
WOW!! What a week we had with the shop hop! So much fun and getting to see customers we haven't seen in a year or more! We loved chatting with you and catching up. Hope everyone enjoyed getting out in the beautiful weather that we had and visiting all the wonderful shops.
We have winners!!!
Alice Woodall won our store basket
Pam Gholson won the Fat Quarter "basket"
Kelly Stephens won our $50.00 Gift Certificate
Linda Polishie won our $25.00 Gift Certificate
Winner of the Janome 3160QDC(T) is Rita StoneKing!!
Congratulations to all the winners from every shop. Four hundred and forty-eight passports were sold over all! That is awesome and we want to thank everyone who participated. You help keep our small businesses alive!
Be sure to check out the pictures of the quilts we posted last week on Facebook. Bring in your quilts and we will post them. We love to see what you are doing. And like and share our page.
We will start getting ready for the Southern Indiana's "Chasing Rainbows" Shop Hop—June 23rd thru June 26th. There are 10 shops on this Shop Hop. The fabrics for this shop hop are so creamy and luscious that we know you will love them. Passports will be on sale soon so be sure to come in and get one ($5.00 before and $6.00 during). Reserve the dates on your calendar and join in the fun!
We are having our Sharynn's Stitching Friends meeting this Saturday, April 17th at 9 a.m. here in the shop. We realize that this isn't the normal date and next month we will go back to the 2nd Saturday which is May 8th. Come and join us for refreshments, coffee and tea.
We want to have our sit 'n' sew days again. Are you interested? Would you sign up? There would be no cost to come and sew on Wednesdays. Give us a call and let us know if you would be interested.
We are also going to do a basic refresher course on the Janome 3160QDC and the Janome 4120QDC. These classes will be done at the same time and be a 2-3 hour class. More to come later.