Newsletter - April 27, 2021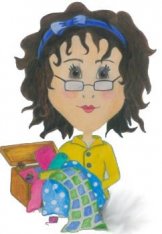 SHARYNN'S QUILT BOX
890 S. STATE STREET
P.O. BOX 1041
NORTH VERNON, IN 47265
812-346-4731
April 27, 2021
OOPS!! We got the times wrong on the Sit'n'Sew….the time is 1-3:30p.m. Sorry for the mix-up! We are excited to be able to host you all again and hope you will join us. There is no charge for this.
Do you own a Janome 3160QDC or a Janome 4120QDC?? Have you not been using it much or want to know more about it? Didn't have time to take the intro class? Now is the time!! We will be offering a refresher class on these two machines on May 19th from 1-3. We will go thru the book and re-learn the basics. You will be given a piece of fabric and as we go thru the stitches we will write on the fabric what stitch it is and all the variations. So if you want to reacquaint yourself with your machine, call now as we will only take the first 5 persons who call in to register.
Are you looking for a heavy duty machine? We have just what you need! We have the HD9P by Janome. This machine is a high speed straight stitch only machine. It sews up to 1600 stitches per minute. This is for the serious sewist. It has jumbo bobbins that hold 1.4X more thread. You can tackle home décor projects such as leather crafts, denim and canvas using the heavier threads. If you do this type of sewing, this machine is for you. Come see what it can do!!
We also have the M7 Continential which is also a heavy duty machine. This machine has been designed with the largest sewing area in the industry….13.5"! This provides you with lots of room to quilt large quilts with ease. It also sews at 1300 stitches per minute. Ruler work is a breeze with this machine. It comes with 23 presser feet accessories. Give this one a trial run.
Call us to give either of these machines a "test drive". You won't be sorry! These machines are built by Janome and made to last years. Janome has been in business for 100 years. And we service all machines that we sell here in our shop.
Mark your calendars for these upcoming events:
May 8th: Sharynn's Stitching Friends—this will be different as Cathy and Pat will be in charge!! Nine here in our classroom!
May 19th: Janome class 1-3

June 23rd: Southern Indiana "Chasing Rainbows" Shop Hop. Get your passport and join in the fun of visiting 9 great shops.
Check out our website and Facebook page. Be sure to like our posts and share them!