Newsletter - May 5, 2021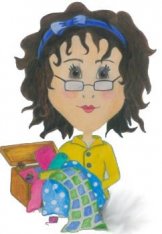 SHARYNN'S QUILT BOX
890 S. STATE STREET
P.O. BOX 1041
NORTH VERNON, IN 47265
812-346-4731
May 5, 2021
Our hours continue to be: Tuesday, Wednesday, Thursday & Friday 10-4 and Saturday 10-2. We are closed on Sunday and Monday.
Upcoming events:
May 8th: Sharynn's Stitching Friends-here in our classroom at 9 a.m. Be sure to bring Show 'n' Tell!
May 12th: Sit 'n' Sew – hours 1-3:30 p.m.
May 26th: Sit 'n' Sew – hours 1-3:30 p.m.
Please note that we will be closed on Saturday, May 29th thru May 31st. We will re-open on June 1st at regular time of 10 a.m. This will give us and our employees time to spend with our families on Memorial Day Weekend. We hope that you will also enjoy your weekend.
This Sunday is Mother's Day. Stop by and get your mom, mother-in-law, favorite aunt, sister or your best friend a gift certificate. It is THE perfect gift for all the moms, mothers-in-law, aunts, sisters, or friends.
Next Wednesday, May 12th we will have WACKY WEDNESDAY! We will have mark downs throughout the store. Come and see what will be on sale.
Check out our Facebook page for the ad for the Southern Indiana "Chasing Rainbows" Shop Hop. Come in and get your passport ($5.00) and grab those girlfriends and plan a couple of days of shop hopping around Southern Indiana!
There are prizes and quilt blocks and 9 shops! It will be 4 days of shopping and lots of fun. There are 11 GRAND PRIZES!!
# Choice of: Janome Sewing Machine or Baby Lock
# Fat Quarter Collection – 90 pieces
# 9 individual $50.00 Gift Certificates
You must visit all 9 shops to be eligible for grand prizes
Each shop will have a drawing for a gift basket valued at $125.00.
This shop hop is 4 days, June 23rd thru June 26th. Shop hop hours are 9-6 each day. Two of the shops are on Central time….The Village Mercantile and Let's Sew. Be aware of this!
Each shopper with a passport may purchase a block kit from each shop visited. Each block kit fee is $5.00. For more information contact any of the shops.
Are you in the market for a quilt machine? We sell the best…Handi-Quilter! And Darrell is marking down the prices on the Capri and the Moxie. The Capri is marked down to $6499.00 from $7995.00 and the Moxie is priced at $4500.00! It was priced at $5000.00. These prices include all accessories, bobbin winder and frame. These are show prices and won't last long.

He also has special pricing on the Forte, Amara, and the Simple Sixteen. These are demos. Darrell will teach you how to use your machine. These machines have full warranty.
So come in, talk to Darrell and test drive one or all of them!!