Newsletter - May 25, 2021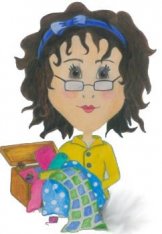 SHARYNN'S QUILT BOX
890 S. STATE STREET
P.O. BOX 1041
NORTH VERNON, IN 47265
812-346-4731
May 25, 2021
As a reminder….we will be closed on Saturday, May 29th for our Memorial Day Holiday. We will reopen June 1st at 10a.m. Please enjoy your Holiday Weekend safely.
We have been brainstorming and we have decided to resume our "Ladies Night Out" on the first Friday night of each month beginning in July!! We will begin at 4:30 p.m. and sew until at least 8 p.m. There is a $5.00 charge. Get your projects together and come and join us. Sharynn, Cathy, Gail and Pat will be sewing!
If you didn't see our post on Facebook…we have finally received a part of our Janome order!! We have received the 3160QOV machines and the 4120QDC(T) machines with more to come. We are so excited to be getting our orders again. It's not been easy this past year and a half but we are so thankful that you have "stuck" with us and helped us keep our doors open.
Upcoming Events:
June 9th – Sit 'n' Sew 1-3:30 p.m. in our classroom (only one this month)
June 12th – Sharynn's Stitching Friends 9 a.m. in our classroom
June 23rd – June 26th – Southern Indiana "Chasing Rainbows" Shop Hop
Don't forget to mark your calendars for our In Store Retreat—September 24th & 25th. We already have several signed up so don't miss out as our space is limited.