Newsletter - June 1, 2021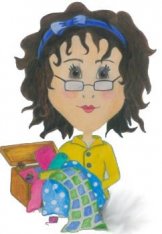 SHARYNN'S QUILT BOX
890 S. STATE STREET
P.O. BOX 1041
NORTH VERNON, IN 47265
812-346-4731
June 1, 2021
We hope that everyone enjoyed a safe and happy Memorial Day weekend.
As we mentioned last week, we have received the 4120QDC(T) sewing machines and the 3160QOV sewing machines. These are "small" light weight machines but don't let that fool you! These machines are "workhorses" and have lots of features of more expensive machines. Both have a scissors and have lots of stitches for decorating your projects. These machines are our bestselling machines. They are great starter machines too, great to take to class, or take to retreat or a sit 'n' sew with friends. They both weigh about 11 lbs.
And remember when you buy locally you help the local economy. We will teach you to use your machine and make sure that you are comfortable with it. We are here if you have a problem and we service what we sell. Darrell has 25 years of experience servicing Janome machines. Our turnaround time is usually 2 days. These are things to consider when you are contemplating buying a new sewing machine. You cannot get this kind of service from an internet store. Check us out first.
We are working on our upcoming Shop Hop the 15th Annual Southern Indiana "Chasing Rainbows" Shop Hop on June 23rd thru June 26th. Hours will be 9-6 each day (two shops are on Central Time so be aware of that). It will be here before you know it! So be sure to get your passports and join in all the fun. The fabrics for this Shop Hop are so beautiful. They are Batiks from Hoffman Fabrics. We will be posting our quilt on Facebook soon so be watching for it.
There are lots of prizes and a sewing machine is the Grand Prize….your choice of either a Janome 3160 or a Baby Lock. There is a fat quarter collection (90 pieces!!), 9 individual $50.00 Gift Certificates and each shop will give away a Gift Basket valued at approximately $100.00. To be in the drawing for the Grand Prize you must visit each shop and have your passport stamped. Hoppers with passports may purchase a block kit from each shop visited. Each Block Kit Fee is $5.00. The pattern alone is free.
Participating shops are:
The Village Mercantile – Boonville, IN (Central Time Zone)
Scrappy Patches Quilt Shop – Brownstown, IN
Quilters Corner Cottage – Charlestown, IN
The Quilting Bee – Edwardsville, IN
Let's Sew – Evansville, IN (Central Time Zone)
Margie's Country Store – Madison, IN
L & L Yard Goods – Madison, IN
Sharynn's Quilt Box – North Vernon, IN
The Stitching Post – Washington, IN
UPCOMING EVENTS:
June 9th – Sit 'n' Sew 1-3:30 p.m.
June 12th – Sharynn's Stitching Friends 9 a.m. in our classroom. Don't forget to bring Show 'n' Tell.
June 23rd to June 26th – Southern Indiana "Chasing Rainbows" Shop Hop
July 2nd – Ladies Night Out sewing 4:30 p.m. to 8 p.m. (there is a $5.00 charge). Bring those unfinished projects and let's get 'em done! Or bring something you are just starting. We will sew until at least 8 p.m. You are welcome to bring a snack to share if you like. We will also have some snacks. This will be the first Friday night of every month. We are looking forward to seeing you!
Our In-Store Retreat (September 24th & 25th) is filling up!! We have limited space so please call and get your name on the list to reserve a spot.