Newsletter - June 10, 2021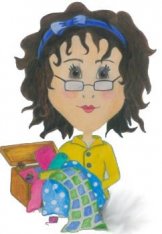 SHARYNN'S QUILT BOX
890 S. STATE STREET
P.O. BOX 1041
NORTH VERNON, IN 47265
812-346-4731
June 10, 2021
OPPS!!! In our email yesterday we stated that we would begin our "Ladies Night Out" on Friday, July 2nd. Well this is 4th of July weekend and that's not going to work!!
We will begin on July 9th. We apologize for this error. Mark your calendars and join us on July 9th at 4:30 p.m. for sewing, food and fun!
We do need you to call in to reserve a spot and the cost is $5.00. So give us a call to reserve your seat!
Also, don't forget Sharynn's Stitching Friends is this Saturday at 9 a.m. Bring your projects to show!