Skip Navigation
Website Accessibility
Newsletter - June 15, 2021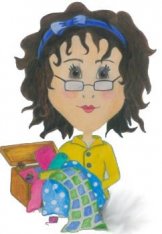 SHARYNN'S QUILT BOX
890 S. STATE STREET
P.O. BOX 1041
NORTH VERNON, IN 47265
812-346-4731
June 15, 2021
We had a lot of fun at Sharynn's Stitching Friends meeting last Saturday. We posted pictures on our Facebook page so be sure to check them out. If you aren't a member and want to join us, come on July 10th at 9 a.m. We have some challenges coming up that will be so much fun. So be sure to come and join us.
We are just one week away from the 15th Annual Southern Indiana Shop Hop. "Chasing Rainbows" is our theme this year. We are featuring Batiks from Hoffman Fabrics. These colors remind us of sherbet…they are soft pastels and so beautiful. Some shops have posted their finished quilt on Facebook. You can view these quilts by searching Southern Indiana Shop Hop.
Passports are available at each shop for $5.00 until the day of the shop hop…then they are $6.00. There are nine participating shops:
The Village Mercantile – Boonville
Scrappy Patches – Brownstown
Quilters Corner Cottage – Charlestown
The Quilting Bee – Edwardsville
Let's Sew – Evansville
Margie's Country Store – Madison
L & L Yard Goods – Madison
Sharynn's Quilt Box – North Vernon
The Stitching Post – Washington
The dates are June 23rd thru June 26th and hours are 9 a.m. to 6 p.m. each day. Lots and lots of prizes to be won so get your passport and join in the fun. Each shop will give away a basket of goodies valued at $125.00.
The Grand Prize is either a Janome Sewing Machine or a Baby Lock. There is also a collection of 90 Fat Quarters and 9 individual $50 gift certificates. You MUST visit all 9 shops and have your passport stamped to be eligible for the Grand Prize.
Don't forget Sit 'n' Sew is Wednesday, July 14th and July 28th from 1 -3:30 p.m. There is no charge for this. You can sew on anything you want to sew on.
On July 9th, we will have our "Ladies Night Out" here in the shop. You can come and sew from 4:30 p.m. to at least 8 p.m. There is a $5.00 fee for this event. Bring your favorite snacks and we'll have ours and we can sew and eat! Again, you can sew on whatever you choose. This event will be the 1st Friday night of each month.
We will also be having our In-Shop Retreat, September 24th and 25th. There are a few spaces left if you are interested. We are still working on details. But you can call to get your name on the list.