Newsletter - June 22, 2021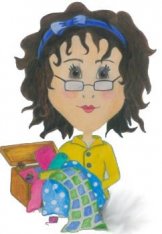 SHARYNN'S QUILT BOX
890 S. STATE STREET
P.O. BOX 1041
NORTH VERNON, IN 47265
812-346-4731
June 22, 2021
It's finally here…the 15th Annual Southern Indiana "Chasing Rainbows" Shop Hop! We are so excited to greet everyone and show off our beautiful quilt! Don't forget doors open at 9 a.m. tomorrow. There are lots of prizes to win and each of the 9 shops has a beautiful quilt to show. You can still buy a passport so no pressure!
Some UPCOMING EVENTS:
July 9th: our 1st "Ladies Night Out" beginning at 4:30 p.m. until 8 p.m.
July 10th: Sharynn's Stitching Friends at 9 a.m. Our new Thangles/crayon Challenge will begin.
July 14th & July 28th: Sit 'n' Sew from 1 to 3:30 p.m.
We are so happy to be able to have our "Ladies Night Out" again. We had these sit 'n' sews at the old shop but haven't had them since we moved. So come and join in the fun. You can sew on anything and we will have some snacks and you can bring snacks if desired. We will sew at least until 8 p.m. You do need to sign up. Either come in or call. The cost is $5.00. So be sure to come and join us for an evening of sewing, fun and of course eating!!
We will have irons and ironing boards but recommend that you cut your fabric ahead of time. We will have one cutting station.
So get your name on the list as our space is limited.
See y'all at the Shop Hop!!!