Newsletter - June 29, 2021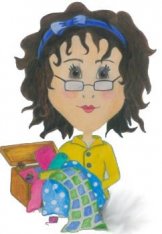 SHARYNN'S QUILT BOX
890 S. STATE STREET
P.O. BOX 1041
NORTH VERNON, IN 47265
812-346-4731
June 29, 2021
WHEE!! Thank you to everyone who participated in the Southern Indiana "Chasing Rainbows" Shop Hop!! It was a very successful Shop Hop thanks to you!! We hope that you enjoyed seeing all the quilts and got lots of ideas! It was wonderful and we enjoyed it tremendously!! Now when you get those quilts finished, bring them in and share with us!
The Grand Prize winner, Joyce Ulm won the Baby Lock from Let's Sew.
Our winners were: Marietta Gruesbeck $50.00 Gift Certificate and Kim Merkel won our Gift Basket!! Congratulations to both!! And all the winners at each shop.
Just a note that we will be closed on Saturday, July 3rd to celebrate a longer weekend with our families. We will reopen on Tuesday, July 6th at 10 a.m.
It's almost the 4th of July! There is still plenty of summer left and lots of time for sewing and quilting. With that in mind, we are planning our "Ladies Night Out" next Friday, July 9th from 4:30p.m. to 8p.m.
Our next Sit 'n' Sew will be July 14th, 1 to 3:30 p.m.
Sharynn's Stitching Friends will be held on Saturday, July 10th at 9 a.m. here in the shop.
Now for some news about our In Shop Retreat….the dates are September 24th & 25th. We have decided to have box lunches by Dana Ochs both days. This way we stay in the guide lines for COVID. So the cost of the retreat this year will be $60.00 for the two days. We are excited that we can again have Dana's catering as the food is wonderful. If you have already signed up, we just need you to make a deposit of $30.00 to hold your spot. We are filling up so if you aren't signed up, call and reserve your spot today! We are looking forward to having this event again.
We hope everyone has a happy and safe 4th of July! God Bless America!!