Newsletter - July 6, 2021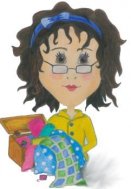 SHARYNN'S QUILT BOX
890 S. STATE STREET
P.O. BOX 1041
NORTH VERNON, IN 47265
812-346-4731
July 6, 2021
We have a lot coming up in the weeks ahead. If you remember we used to have the Friday night Sew In at the other shop. This Friday night July 9th we are bringing back our Sew In but we are calling it "Ladies Night Out". You can sew from 4:30p.m. til 8p.m. We hope you will join in the fun. All you need is your sewing machine and a project! We will have some goodies and you bring some goodies and we will have a real good time! The cost is $5.00 and you can pay on Friday afternoon. We will be doing this on the first Friday of each month.
Saturday, July 10th at 9 a.m. we will meet for Sharynn's Stitching Friends. Come and join us and be sure to bring your Show 'n' Tell!
We will have Sit 'n' Sew 2 times this month….July 14th and July 28th. Times are 1 to 3:30 p.m. Come and sew with us!
We are now fully stocked with Janome 3160QOV and 4120QDC(T) machines. These are "small" lightweight machines weighing about 11 lbs each. So very easy to take to class, sit 'n' sews, retreats and user friendly. They have lots of features that more expensive machines have like a scissors and stitches for decorating your projects.

The MSRP for the 3160QOV is $999.00. This machine sells for $799.00 here. And the MSRP on the 4120QDC(T) is $1199.00 but our price is $999.00. We will teach you to use the machine and we are here to service what we sell. Darrell has over 25 years of experience servicing Janome machines.
Our In-Shop Retreat will be September 24th & 25th. This is a Friday and Saturday and you can sew from 9 a.m. to 9 p.m. on Friday and 9 a.m. to 3 p.m. on Saturday. We are doing box lunches from Dana Ochs for lunch both days. The cost will be $60.00. If you have already signed up, your deposit of $30.00 is payable now. If you haven't signed up and want to join in the fun give us a call and we'll sign you up and you can pay the deposit by mail. We are so looking forward to having this event again!