Skip Navigation
Website Accessibility
Newsletter - July 13, 2021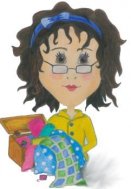 SHARYNN'S QUILT BOX
890 S. STATE STREET
P.O. BOX 1041
NORTH VERNON, IN 47265
812-346-4731
July 13, 2021
Here we are in the middle of July….hard to believe that we are on the downward slide toward the Holidays! We are trying to think in terms of Halloween, Thanksgiving and Christmas. It's hard to think about when the temp is in the 80s but they will be here before you know it. In my mind's eye I can see a student, grandparent, a friend wrapped up in a warm throw maybe thinking of you for making them the blanket. Now is the time to get started and we have lots of warm flannels for throws that would make wonderful gifts for college students, older parents, or just for yourself or a friend on your list. Come in and check them out.
We have lots of events coming up. So be sure to add them to your calendar.
We have 2 Sit 'n' Sews this month on Wednesday, July 14th and Wednesday, July 28th. Times are 1 to 3:30p.m. You can sew (no charge) on anything you want. This isn't a class!
We will also be doing our "Friday Night Ladies Night Out" on August 6th from 4:30 to 8 pm. There is a $5.00 charge for this.
Now is the time to pay your deposit for our In-Shop Retreat, September 24th & 25th. So if you have already signed up, just come in a pay the $30.00 deposit to hold your spot. We will again have Dana's Catering provide lunch both days. We will have plenty of snacks and lots of time to sew and on Saturday we'll do Show 'n' Tell. We have limited space so please get those deposits made!
Darrell is planning Handi-Quilter Classes for October 22 and 23. Harriet Carpanini and Martha Higdon will be teaching these classes. On Friday, October 22nd, Martha Higdon will teach FAFT Free Motion Quilting and Basic Ruler Work. The times will be 9-12 and 1-4. The cost will be $45.00.
On Saturday, October 23rd, Harriet Carpanini will teach Tips and Tricks with the Handi-Quilter Pro-Stitcher. You will learn sashing and border shortcuts, cropping, making your own designs, and how to play with Pro Stitcher Designer. The times will be 9-12 and 1-4 and the cost is $45.00.
These classes have been discounted and we are limited to 12 people. Call early to reserve your spot.
We want to thank you for your patience as we process all the orders for our blocks for the Shop Hop Quilt. We had almost 300 orders!! We will begin shipping asap.