Newsletter - July 20, 2021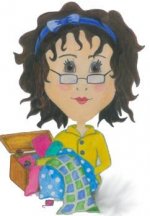 SHARYNN'S QUILT BOX
890 S. STATE STREET
P.O. BOX 1041
NORTH VERNON, IN 47265
812-346-4731
July 20, 2021
We want to thank everyone who ordered (and purchased) quilt blocks from the Southern Indiana Shop Hop. We were overwhelmed with the response to our blocks! But we can see the light at the end of the tunnel and the blocks will be shipped this week. We also want to thank you for your patience in getting these out.
To all HQ owners and all who want to own one. We will be having classes in October with Martha Higdon who will teach FAFT Free Motion Quilting and Basic Ruler Work on Friday October 22nd. The times will be 9-12 and 1-4 and cost is $45.00.
Harriet Carpanini will be teaching Tips and Tricks with the Handi-Quilter Pro-Stitcher on Saturday, October 23rd. You will learn sashing and border shortcuts, cropping, making your own designs and how to play with the Pro-Stitcher Designer. The times will be 9-12 and 1-4 and the cost will be $45.00.
These ladies are Handi-Quilter Educators and well versed in these subjects. Classes are limited to 12 people and are filling up. So please call to reserve your spot. Classes must be paid for when you reserve your spot.
FYI for the gals in Sharynn's Stitching Friends….we are going to order all the supplies for the challenge and hope to have it all by the August 14th meeting. We think this will be a very exciting and fun challenge.
If you signed up to do the In-Shop Retreat, please remember to come in and pay your deposit. We only have room for 18-20 people and as of right now we are getting very close to those numbers. If you signed up and find that you can't come, please let us know so that we can take you off the list. The cost is $60.00 for the 2 days of sewing and food and fun!
This will be so much fun. We will sew from 9 a.m. on Friday morning to 9 p.m. on Friday night. Then on Saturday from 9 a.m. to 3 p.m. We will have Show 'n' Tell and we will have box lunches for both days. Dana Ochs will be providing the box lunches. We will have some snacks too.
Please remember our hours are Tuesday, Wednesday, Thursday, & Friday 10-4 and 10-2 on Saturday. We are closed on Sunday and Monday.