Newsletter - July 27, 2021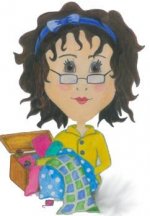 SHARYNN'S QUILT BOX
890 S. STATE STREET
P.O. BOX 1041
NORTH VERNON, IN 47265
812-346-4731
July 27, 2021
We want to remind everyone of our store hours…Tuesday thru Friday 10 a.m. to 4 p.m. Saturday 10 a.m. to 2 p.m. and we are closed on Sunday and Monday. And remember you can shop our website, www.sharynns.com 24 hours a day for your convenience!
The wait is finally over…we have also received white 108" backing fabric.
To all persons who have signed up for Harriet Carpanini's Pro-Stitcher class October 23rd. You must have a tablet and have loaded Premium software. This class is on Tips and Tricks using the Handi-Quilter Pro-Stitcher. Several spots are still available for this class. The cost is $45.00.
On Friday, August 6th, we will again have our "Ladies Night Out" of sewing. The cost for this is $5.00 and we'll sew from 4:30 to 8 p.m. We'll have a cutting area and an ironing board and iron. We are looking forward to seeing you!!
We have received some new machines from Janome!! We have the Skyline Series…S9, S7, & S6. The S9 is an embroidery machine with lots of features that you would find on a more expensive machine. It has 250 built-in designs, WIFI capability that makes it easier to send designs from an ipad or computer straight to the machines. Janome developed apps for your ipad to help make your embroidery easier. The max size of embroidery is 6.7"x7.9". The S6 & S7 have lots of built in stitches and a 4 star rating!
MC6700P is an award winner and is back in stock. This machine received the International Design Excellence Award.
Come in and see what these machines will do!