Newsletter - August 3, 2021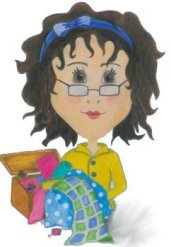 SHARYNN'S QUILT BOX
890 S. STATE STREET
P.O. BOX 1041
NORTH VERNON, IN 47265
812-346-4731
August 3, 2021
It is August! Sunday, August 1st was Friendship Day! We want you to know that we cherish your Friendship with us.
Time is just flying by. Kids will be going back to school and the weather will begin to turn a bit cooler. It'll be time for pumpkins, hot cocoa, sweaters and mittens and football games with blankets. We have flannel that would make wonderful stadium blankets. It's also time to begin to think about the holidays and making those special people on your list something unique. Come in and we'll help you get started.
The Handi-Quilter class with Martha Higdon on Free Motion Quilting and Basic Ruler Work is FULL. Now, if you want to take this class, please call and put your name on the wait list and if enough people sign up, we will try to run the class again at some point this year. There are still openings in the Pro-Stitcher class. But please remember that you must have a tablet and have loaded Premium software.
This Friday, August 6th we will again have our "Ladies Night Out" sewing from 4:30 to 8 p.m. We had a great time in July and we are looking forward to sewing with everyone. It's just $5.00 and we'll have snacks. We'll have an ironing board, iron, and cutting mat for you.
Sharynn's Stitching Friends will meet at 9 a.m. on August 14th here at the shop. We will be discussing the Crayon Challenge and anyone who has not picked their 2 crayons can do so that day. We will have the first 2 block patterns and the Thangles for you. We will also be doing Show 'n' Tell of course. So bring in those projects.
If you signed up for the In-House Retreat, September 24th & 25th, your deposit is due as soon as possible. You can mail a check or come in to pay the deposit or pay the full amount of $60.00. This includes 2 meals catered by Dana Ochs and sewing for 2 days. We have less than 10 spots open. If you mail a check, please mail to P. O. Box 1041 North Vernon, IN 47265.
We received some new machines from Janome!! It's the Skyline Series…S9, S7, & S6. The S9 is an embroidery machine with lots of features that you would find on a more expensive machine. It has 250 built-in designs, WIFI capability that makes it easier to send designs from an Ipad or computer straight to the machine. The max embroidery size is 6.7"x7.9".
The S6 has 196 built-in stitches and LED lighting. It has a scissors and a larger throat for bigger projects.
The S7 has 240 built-in stitches and auto presser foot lift. A scissors and the larger throat makes quilting easier.
Come in and try them out!!