Newsletter - August 10, 2021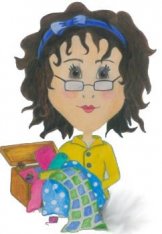 SHARYNN'S QUILT BOX
890 S. STATE STREET
P.O. BOX 1041
NORTH VERNON, IN 47265
812-346-4731
August 10, 2021
School has started and soon the air will turn crisp with cooler days and nights. We know that a lot of you have been spending time with your kids, working in your gardens and generally relaxing. The Fall is the time to think about sewing again! Is it time to get your machine serviced? If you had your machine serviced here you will find a sticker on the front of your machine telling you when it is due for service again. You can bring them in anytime during regular store hours. Please note that we do NOT service Husqvarna-Viking or Bernina machines as we can't get parts and we are not a dealer. Sorry for this inconvenience. Janome recommends that its machines be serviced every year to year and a half. So take some time to get your machine in good working order before starting all those Holiday projects.
Today (August 11, 2021) thru August 14, 2021, we are doing a 25% off everything (excluding sewing machines & Longarms) to thank you for continuing to support us! Come see us!
The Handi-Quilter classes scheduled for October 22nd and 23rd are now FULL! But if you didn't get in on these, please call and we can put you on a waiting list. Darrell is also going to see about running these classes again. So if you missed out, call to put your name on the "wait" list.
Sharynn's Stitching Friends is this Saturday, August 14th at 9 a.m. here at the shop. We are excited to begin the Crayon Challenge! It will be so fun to see all the quilts! Be sure to bring Show 'n' Tell also.
There are several openings for the In-Store Retreat in September. We will have 2 days of fun, sewing and show 'n' tell. So come join in the fun. Dana Ochs will again cater our lunches for the 2 days.
Please remember that you can shop from our website www.sharynns.com at any time of the day or night! We ship every day except over the weekend. Then we will ship on Tuesday. So if you prefer….shop from the website.
Our store hours remain…Tuesday thru Friday 10 a.m. to 4 p.m. and on Saturday 10 a.m. to 2 p.m. Thank you for your continuing patronage!