Newsletter - August 18, 2021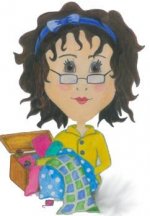 SHARYNN'S QUILT BOX
890 S. STATE STREET
P.O. BOX 1041
NORTH VERNON, IN 4726
812-346-4731
August 18, 2021
We are already into the middle of August. We know that there is lots more summer to come but the Holidays are fast approaching. Do you change your decor to match the season? I know that I do and I love the fall colors. Fall is such a great time to get out the warm browns, the tangy oranges, ivories, and tantalizing greens and decorate your table with these wonderful colors. It just gives your home a very warm welcome! Table runners, table toppers, lap quilts and wall hangings are just a few of the wonderful things you can make to decorate your home. Got an embroidery machine? There are lots of designs out there for pumpkins, corn shucks, gourds etc. Enhance your table runner with one of these designs. If you own a Janome embroidery machine (and we hope you do!), Janome has wonderful projects on their website and tutorials to help you accomplish these beautiful designs. Check out their site!
Speaking of embroidery/sewing machines….have you ever wanted one? Or do you have an older one with outdated technology? Have we got a deal for you! The Janome MC15000 is on SALE!! This machine has 510 built-in stitches and 980 embroidery designs and it's WI-FI certified. This machine comes with an Apple Mac Book Air, and it is PC and Mac compatible. This machine has so much to offer! It is top of the line. Come in and see what it will do.
UPCOMING EVENTS:
September 4th: We will be closed for the Labor Day Weekend and will reopen on the 7th at 10a.m.
Also we will NOT do our "Ladies Night Out" on Friday, September 3rd due to the Labor Day Weekend. We will see you in October!!
September 11th: Sharynn's Stitching Friends at 9 a.m. here in our classroom.
September 24th and 25th: Our In-Store Retreat. Call the shop for more info. We have a few spots left open so be sure to come and join in the fun.