Newsletter - August 24, 2021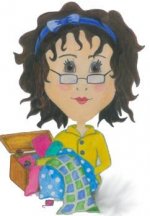 SHARYNN'S QUILT BOX
890 S. STATE STREET
P.O. BOX 1041
NORTH VERNON, IN 47265
812-346-4731
August 24, 2021
Just as a reminder…..our hours are 10a.m. to 4p.m. Tuesday thru Friday and 10a.m. to 2p.m. Saturday.
We will be closed on Saturday, September 4th for the Labor Day Weekend. We will reopen on Tuesday, September 7th at 10 a.m.
We will not be having our "Ladies Night Out" on Friday, September 3rd. Enjoy your Labor Day Weekend.
September 11th is Sharynn's Stitching Friends Club meeting at 9 a.m. Be sure to bring in your 2 Crayon Challenge blocks. Should be lots of fun to see what everyone has.
We are close to a month away from our In-Store Retreat on September 24th & 25th? . Have you signed up yet? If not, give us a call and get in on the fun. We are excited to be able to do it again. Dana Ochs will be catering our lunches with individual box lunches. The cost for the 2 days is $60.00 and you can sew from 9 a.m. Friday morning to 9 p.m. Friday night and from 9 a.m. Saturday morning to 3 p.m. Saturday afternoon. You can work on any projects you want and we will be here to help if needed. Come and join us!! There are several spots left so reserve yours now by coming in and paying a deposit.
We are working on a calendar of classes for 2022. We have a lot of plans in the works. We will keep you updated as they are finalized.
The 4-County Holiday Shop Hop will be December 2, 3, & 4 this year. Save the dates!! We have added 2 shops!!