Newsletter - August 31, 2021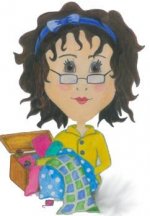 SHARYNN'S QUILT BOX
890 S. STATE STREET
P.O. BOX 1041
NORTH VERNON, IN 4726
812-346-4731
August 31, 2021
The cooler days of fall are fast approaching. Are you ready? Are you thinking about the upcoming Holidays? We love the fall colors of oranges, greens, browns, ivories, even blacks. These are warm and inviting colors. There are so many different things you can make for your home décor! How about a large pumpkin in shades of oranges for a table topper or to hang on your door. We have Halloween fabrics, fall fabrics and Christmas fabrics. We also have Holiday flannels.
As a reminder…we will be closed this Saturday, September 4th and we will reopen Tuesday, September 7th at 10 a.m. Thank you and enjoy your Labor Day Weekend.
For all those who ordered blocks from the Southern Indiana "Chasing Rainbows" Shop Hop, we still have not received the fabric that we ordered in June to complete these blocks. Thank you for your patience and as soon as the fabric arrives we will begin the process of cutting and shipping.
Are you just beginning to explore sewing, quilting, piecing, etc? Do you need a good, reliable machine? Explore the world of Janome. We have machines that are for the beginner to the advanced sewist. We have the Janome 3160 QOV and the Janome 4120QDC(T). Both these machines would be considered beginner to intermediate. The 3160 has 59 stitches along with a scissors and many other features of more expensive machines. This machine weighs in at 11 lbs and is easy to take to quilt retreats, sewing classes, etc. The 4120 has 120 stitches including the alphabet and numbers, scissors, and comes with a walking foot! It also weighs only 11 lbs. Come in and check these out!
We do instruction class (one on one), the first year service is free and we are here if you have a problem.
UPCOMING EVENTS IN SEPTEMBER:
Sharynn's Stitching Friends will meet on the 11th at 9 a.m. We will have Jelly Roll Day beginning at 10 a.m. So bring your machine and get your jelly rolls together and come sew with us.
In-Store Retreat September 24th & 25th. Are you signed up? There is still time to get in on the fun. The cost is $60.00 for the 2 days with a box lunch provided. Dana Ochs will be catering our lunch. You will be able to sew from 9 a.m. on Friday to 9 p.m. and 9 a.m. on Saturday to 3 p.m. You can sew on anything you want as this is just time for you to get out and have some fun. So grab your friends and come and join us in the fun.
If you have signed up and paid the deposit now is the time to pay the balance due. Thank you!