Newsletter - September 14, 2021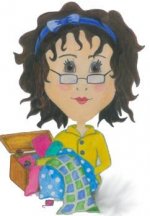 SHARYNN'S QUILT BOX
890 S. STATE STREET
P.O. BOX 1041
NORTH VERNON, IN 47265
812-346-4731
September 14, 2021
The days are getting shorter and summer is winding down. I for one am sorry to see it go but I always look forward to the color of fall and the Holidays. Do you have a fall, Halloween or Thanksgiving table runner? Or table topper? We have lots of fabric and patterns for both. All of our fabrics are on our website and you can order from the comfort of your home and we will ship. What could be easier?!
We are working on classes for January. We will announce these classes in November. Class size will be limited. We are excited to be able to offer these classes.
We are getting so excited for our In-Store Retreat coming up September 24th & 25th. We will sew from 9 to 9 on Friday and 9 to 3 on Saturday. We will have show 'n' tell on Saturday after lunch. You are welcome to work on anything you want. We will have irons and ironing boards and one cutting station. We are looking forward to hosting this retreat!
We have received information on the upcoming 4 County Holiday Shop Hop. The dates are December 2, 3, & 4. This year we welcome Margie's Country Store and L & L Yard Goods to our group. So mark your calendars and we will have passports for sale soon.
Check out Sharynn's Quilt Box on Facebook. If you haven't already, like and share our posts. We will be posting lots of pictures today. So check it out.