Newsletter - September 21, 2021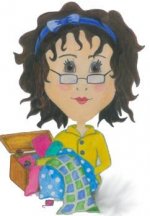 SHARYNN'S QUILT BOX
890 S. STATE STREET
P.O. BOX 1041
NORTH VERNON, IN 47265
812-346-4731
September 21, 2021
A reminder of our hours: Tuesday, Wednesday, Thursday, & Friday 10a.m. to 4p.m. Saturday, 10a.m. to 2p.m. We are closed on Sunday and Monday. Our website www.sharynns.com is open 24/7 for your shopping pleasure! We ship next day unless you order on Saturday, Sunday or Monday. If you order then we will ship on Tuesday.
This weekend will be our In-House Retreat on Friday and Saturday! We are really looking forward to all the fun and sewing. We sent out letters but if you have questions, please call.
Our 4-County Holiday Shop Hop is looming on the horizon! We have our passports and we are selling them! The dates are December 2, 3, & 4 and the hours are 9-5 each day. When you purchase a passport you will receive a free Poinsettia pattern for applique. Passports are $5.00 before the shop hop and $6.00 after it begins. If you turn in your completed passport, you will be eligible for the Grand Prize of five $50.00 Gift Certificates! Each shop will give away a basket valued at $100.00.
Shops include:
Tree City Stitches – Decatur County
Sharynn's Quilt Box – Jennings County
Quilter's Nook – Ripley County
L & L Yard Goods – Jefferson County
Margie's Country Store – Jefferson County
We welcome L & L Yard Goods and Margie's Country Store! These are the 2 new shops on the shop hop. Be sure to get your passport and join in all the fun!
We are an exclusive Janome and Handi-Quilter Dealer. We have handled Janome Sewing Machines since 1998 and Handi-Quilter Longarms since 2008. Handi-Quilter machines are the most reliable longarms on the market. Janome has been in business for 100 years this year.
If you are in the market for a sewing machine, check us out! Looking for a longarm to finish those quilts? We have the machine that will fit your budget and your needs. We will teach you to use the machine you buy and we will be here to service it.
If you have recently purchased a Janome machine from us, don't forget that we will teach you to use the machine. Please call to make an appointment.