Newsletter - October 5, 2021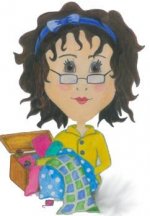 SHARYNN'S QUILT BOX
890 S. STATE STREET
P.O. BOX 1041
NORTH VERNON, IN 47265
812-346-4731
October 5, 2021
Happy October!! The fall colors are beginning to show and it gets me in the mood for porch sitting, hot cider, wrapped in a soft blanket! Maybe sitting around a campfire. It also makes me want to get to my sewing room and get busy on Holiday items. We still have Halloween fabrics, Thanksgiving panels and fabric and of course lots of Christmas. So come in and pick out your favorites. And remember to bring them in for pictures! We love to take pictures of your finished projects and post to our Facebook page.
We are again able to take credit/debit cards. Thanks for your patience.
We had so much interest in our Handi-Quilter classes that we have scheduled more for November 5th and 6th. Harriet Carpanini will teach basic long arm loading, etc. and rulers, couching, etc. on November 5th. On the 6th she will be teaching beginner Pro Stitcher and Designer. The cost of these two days will be $90.00. The times will be 9-Noon & 1-4 both days. We will break for lunch from noon to one p.m. Harriet Carpanini has been a Handi-Quilter Educator since 2007. She was one of the first educators for Handi-Quilter. Please call to reserve your spot as we have limited space.
Sharynn's Stitching Friends will meet here in the classroom on Saturday, October 9th at 9a.m. Please bring show 'n' tell and your crayon blocks if you want. It is not too late to join in the Crayon/Thangles Challenge. We have extra "kits".
On Wednesday, October 13th and on Wednesday, October 27th, we will have Sit 'n' Sew from 1 p.m. to 3:30 p.m. Mark your calendar & come join us! It's free! Please remember that we close at 4 p.m.
The Annual 4 County Holiday Shop Hop is on December 2, 3, & 4 this year. We have passports on sale now and available in each participating shop. They are $5.00 until the day of the Shop Hop and $6.00 after that. The hours are 9 to 5 each of these days. When you purchase a passport you will receive a pattern for an applique Poinsettia which is this year's theme.
This year we welcome L & L Yard Goods and Margie's Country Store both in Madison to the Hop! Each shop will give away a gift basket valued at $100.00 and the Grand Prize will be five $50.00 gift certificates. To be eligible for the gift certificates, you must visit each shop and have your passport stamped.
We have a limited number of extra block kits from the June Shop Hop. There are 4 different blocks that could be used in a small quilt or table runner. They are $5.00 each. They won't last long so get 'em while we got 'em!
A reminder of our hours: Tuesday, Wednesday, Thursday & Friday 10 a.m. to 4 p.m. Saturday 10 a.m. to 2 p.m. and closed on Sunday and Monday. Our website (www.sharynns.com) is open 24/7 for your shopping pleasure!
We have received lots of Moda Grunge and Moda Solids. Look for them next week on the shelves!