Newsletter - October 12, 2021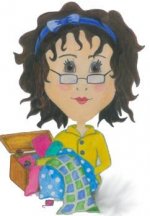 SHARYNN'S QUILT BOX
890 S. STATE STREET
P.O. BOX 1041
NORTH VERNON, IN 47265
812-346-4731
October 12, 2021
A reminder: our hours will remain the same…Tuesday thru Friday 10-4, Saturday 10-2 and we are closed on Sunday and Monday. Thank you!
We have one more Sit 'n' Sew date this month, the 27th. Times are 1p.m. to 3:30 p.m. This is free and you are welcome to come and sew with us.
Next week, October 22nd and 23rd we will be having Handi-Quilter classes here in our classroom. These classes are full. But we will be having another Ruler Class and a beginner class in November. Harriet Carpanini will be teaching rulers, couching, loading, etc. on November 5th. She will be teaching beginning Pro Stitcher and Designer on November 6th. The cost of these classes is $45.00 each day. Times are 9 to 12 Noon with a break for lunch until 1p.m. Then resume class at 1 p.m. to 4 p.m. Please call to reserve your space as they are filling up fast.
We posted pictures on Facebook of members of Sharynn's Stitching Friends and their projects. Check them out!! Be sure to LIKE and SHARE our posts.
The Annual 4 County Holiday Shop Hop is December 2, 3 & 4. The hours are 9-5 all 3 days. Passports are available here in our shop or at any participating shop. When you purchase a passport you will receive a pattern for an applique Poinsettia, this year's theme. Each shop on the hop will give away a basket valued at $100.00. And there will be 5 $50.00 gift certificates given to the lucky Grand Prize winner. To be eligible for the Grand Prize you must visit each shop and have your passport stamped and turn in your completed passport at the last shop visited. Passports are $5.00 until the day the Shop Hop starts.
Participating shops:
Decatur County -- Tree City Stitches
Jennings County -- Sharynn's Quilt Box
Ripley County -- Quilter's Nook
Jefferson County -- L & L Yard Goods
Jefferson County -- Margie's Country Store
Join in the fun and get your passports early!
If you are in the market for a new sewing machine, check us out! We have been a Janome dealer since 1998. We are an exclusive Janome and Handi-Quilter Dealer. Janome machines are the most reliable on the market today. We have the 3160QOV (Quilts of Valor Edition) and the 4120QDC(T). These machines weigh about 11 pounds each which makes them great to take to classes and retreats. These machines are for all levels of sewing. You need to see these if you are considering buying a new machine. We do our own service here in the shop and we usually have your machine ready in 2-3 days. We also do a class to help you become familiar with the machine.
Handi-Quilter machines out sell all other quilt machines. We have one that will fit your needs. Come see Darrell for a demo. Darrell sets them up, teaches you how to use it and services all the HQ machines. Sharynn's Quilt Box is an award winning Handi-Quilter Shop. So check us out.