Newsletter -October 19, 2021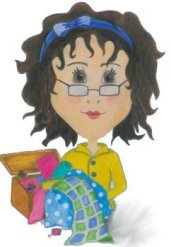 SHARYNN'S QUILT BOX
890 S. STATE STREET
P.O. BOX 1041
NORTH VERNON, IN 47265
812-346-4731
October 19, 2021
It's that time of year when the mornings are cool and crisp and the afternoons are warm and balmy. The leaves are changing and it's time to get into those sewing rooms and begin those projects for the holidays. So what are you working on? We are here to help you in any way we can.
We have received solids from Moda along with more Moda Grunge. We also have Wilmington Dry Brush fabrics. Check these out. These are great "go with" fabrics.
Don't forget to be nice to your sewing machine and bring "her" in for a cleaning. She'll last many more years if given the right care. It's a small price to pay to keep them in good working order.
Next Wednesday, October 27th we will have Sit 'n' Sew from 1 to 3:30p.m. You can make use of our classroom to get out of your house and have 2 ½ hours of uninterrupted sewing! Bring your girlfriends and enjoy your sewing.
UPCOMING EVENTS:
Handi-Quilter Classes – October 22nd & 23rd and November 5th & 6th
Sharynn's Stitching Friends – November 13th 9 a.m.
Thanksgiving – we will be closed November 25th, 26th, & 27th. We will reopen on the 30th.
Please note that our hours remain 10-4 Tuesday thru Friday and 10-2 on Saturday. We are closed on Sunday and Monday. Thank you!
Have you gotten your passport for the 4 County Holiday Shop Hop? We have them! Our theme this year is Poinsettia Path. The dates are December 2, 3, & 4. The hours each day are 9-5. This year two "new" shops have been added….L & L Yard Goods and Margie's Country Store in Madison. There are lots of prizes so be sure to get your passport and save the dates! You don't want to miss it!
Christmas is 9 weeks away! If you are thinking of purchasing a sewing machine for someone on your list, see us now. Our bestselling machines are on sale and we won't be able to get them at this price again. Now is the time so don't delay!