November 9, 2021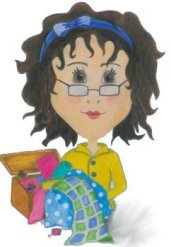 SHARYNN'S QUILT BOX
890 S. STATE STREET
P.O. BOX 1041
NORTH VERNON, IN 47265
812-346-4731
November 9, 2021
Store Hours:
Closed Sunday and Monday
Tuesday thru Friday: 10-4
Saturday 10-2
We are into our second week of November…where has the time gone?? Thanksgiving is only 15 days away!! And Christmas is about 7 weeks away. We still have plenty of fall fabric to make a table runner or a table topper for your Thanksgiving celebration. And we still have Christmas fabric. With all that is going on, a handmade gift will mean so much this year. We have Christmas flannel that would make a warm and cozy throw. Why not give a gift that would have so much more meaning?? And don't forget we have Gift Certificates!!
We are closing out all Accuquilt merchandise. You will receive 30% off at the register.
UPCOMING EVENTS:
November 13th: Sharynn's Stitching Friends 9 a.m. here in our classroom. We will also have the next 2 blocks for the Crayon Challenge. Be sure to bring Show 'n' Tell!
The 4 County Holiday Shop Hop will be December 2, 3, & 4. The hours will be 9-5 all 3 days. Passports are available here at our shop and all participating shops. You will receive an applique pattern for a poinsettia, this year's theme. Each shop on the hop will give away a gift basket valued at $100.00. There will be 5 $50.00 Gift Certificates given to one lucky Grand Prize Winner! To be eligible for the Grand Prize you must visit each shop and have your passport stamped. Then turn in your passport at the last shop you visit. Get your passport and join in the fun!
Don't forget that for your Janome machine to run properly it should be serviced every 12 to 18 months. If you had it serviced here, there should be a date on the front of the front of the machine on the bottom right corner. Check it out and if it's been over 18 months, bring it in for some "pampering"! There is no need to call and schedule a time. But please remember that we will be closed from November 25th until November 30th. (We do not service Husquvarna-Viking, Bernina, or Baby Lock. We are not an authorized dealer and can't get parts. Thank you for understanding.)
We have received the HEX 'N' MORE Ruler. It cuts 4 different shapes in 4 sizes, Hexagons, 60 degree Triangles, Half Hexagons, and Jewels. This ruler is made by JayBird Quilts.
Looking ahead on our calendar…
We will be closed November 25th for Thanksgiving Day and the 26th and 27th. We will reopen on the 30th at 10 a.m.

Our 4 County Holiday Shop Hop will be December 2, 3, & 4th 9-5 each day. These hours are for the shop hop only.
There will be no Sit 'n' Sews in December.
The Unity Chapel Quilters of Ramsey, Indiana will be having a fabric stash sale. One of their members passed away and they are charged with selling her extensive stash of fabric (mostly yardage & fat quarters). The proceeds of this sale will be donated to WHAS Crusade for Children. The dates are November 19th 10-4 and November 20th 10-2 at the Unity Chapel United Methodist Church, 1760 Lost Creek Rd NW, Ramsey, IN 47166. We are passing this along to help a good cause.