Newsletter - November 16, 2021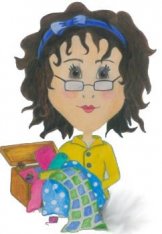 SHARYNN'S QUILT BOX
890 S. STATE STREET
P.O. BOX 1041
NORTH VERNON, IN 47265
812-346-4731
November 16, 2021
Store Hours:
Closed Sunday and Monday
Open Tuesday thru Friday 10-4
Saturday 10-2
We are just a week away from Thanksgiving. And five weeks from Christmas! Time is flying by and as we all know this is a very busy time of the year. We hope that you are getting your Christmas projects/gifts finished. Remember that we have gifts for the sewers in your family. A Gift Certificate is always the right size, color and fit!
Please remember that we will be closed November 25th (Thanksgiving Day), 26th, and 27th to allow our employees to enjoy a long weekend with family. We will reopen on November 30th at 10 a.m. Sorry for any inconvenience.
We are 2 weeks away from our 4 County Holiday Shop Hop. The dates are December 2, 3, & 4 and the hours are 9-5 each day of the shop hop. Passports are available here at our shop and all participating shops. You will receive an applique pattern for a Poinsettia, this year's theme. We will have a sample using the Poinsettia applique with a kit can be purchased. The pattern is free when you purchase your passport. Each shop on the hop will give away a gift basket valued at $100.00. There will be 5 $50.00 Gift Certificates given to one lucky Grand Prize winner! To be eligible for the Grand Prize you must visit each shop and have your passport stamped. Then turn in your passport at the last shop you visit.
There are 5 participating shops:
Decatur County – Tree City Stitches
Jennings County – Sharynn's Quilt Box
Ripley County – Quilter's Nook
Jefferson County – L & L Yard Goods
Jefferson County – Margie's County Store
So get your passport and join in the fun!
Attention Members of Sharynn's Stitching Friends:
We will be having our Annual Breakfast on December 11th at 9 a.m. If you have not signed up to attend, please call and let us know as we need a head count by Tuesday, December 7th.