Skip Navigation
Website Accessibility
Newsletter - November 23, 2021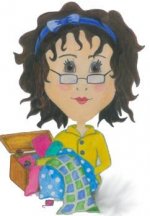 SHARYNN'S QUILT BOX
890 S. STATE STREET
P.O. BOX 1041
NORTH VERNON, IN 47265
812-346-4731
November 23, 2021
Store Hours:
Closed Sunday and Monday
Open Tuesday thru Friday 10-4
Saturday 10-2
We here at Sharynn's want to wish our customers a very Happy Thanksgiving. We have much to be thankful for. We appreciate you and your business. We hope that you enjoy your Thanksgiving and your family. We will be closed Thursday, November 25th thru November 30th. We will reopen on the 30th at 10 a.m.
Several reminders: The 4 County Holiday Shop Hop is coming up very fast! The dates are December 2, 3, & 4 and the hours are 9-5 each day. Passports are still available for $5.00 until the day of and then $6.00. There are lots of prizes and ideas and patterns for the Holidays. Come and join in the fun.
We will not be having Sit 'n' Sew in December but will begin again in January.
Members of Sharynn's Stitching Friends:
Our annual Club Breakfast will be on December 11th beginning at 9 a.m. here in our classroom. If you have not signed up but want to come please call 812-346-4731 to register. We need a head count by December 7th.
If you are not a member of Sharynn's Stitching Friends and would like to be for 2022, just come in and we'll get you all signed up! We meet once a month on the Second Saturday of each month at 9 a.m.
We will be posting pictures today on Facebook, please check it out. And if you haven't done so, like our page and share with your friends