Newsletter - December 7 2021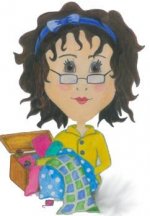 SHARYNN'S QUILT BOX
890 S. STATE STREET
P.O. BOX 1041
NORTH VERNON, IN 47265
812-346-4731
December 7, 2021
Store Hours:
Closed Sunday and Monday
Open Tuesday thru Friday 10-4
Saturday 10-2
We want to thank everyone who came to the 4 County Holiday Shop Hop!! It was a complete success because of you! We had so much fun and enjoyed seeing everyone. This shop hop is always a highlight of the year for us.
The Grand Prize winner is: Joycelyn Albrecht
The basket winners are:
Tree City Stitches: Rita Holverson
Sharynn's Quilt Box: Rachel Burris
Quilters Nook: Susan Luebber
L & L Yard Goods: Carmen Olson
Margie's Country Store: Rita Roberts
We look forward to next year!
For Sharynn's Stitching Friends:
Our Annual Club Breakfast will be on December 11th at 9a.m. here in our classroom. Remember to bring in your Show 'n' Tell and your Crayon Challenge blocks if you want to show them. You can also sign up for next year at this time.
If you are not a member of Sharynn's Stitching Friends and want to join in the fun, just stop by and sign up. There is a $15.00 fee to join. We have a great time at our monthly meetings (2nd Saturday of each month at 9 a.m.).
Some dates to remember:
December 24th we will be open 10-2. We will be closed December 25th thru January 3rd. We will reopen at 10 a.m. on January 4th.
We will begin Sit 'n' Sew again on January 12th and January 26th at 1p.m. to 3:30p.m. Mark your calendar, grab your friends and come join us for a relaxing afternoon of sewing.