Newsletter - January 4, 2022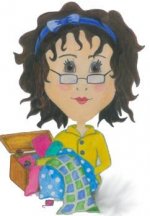 SHARYNN'S QUILT BOX
890 S. STATE ST.
P.O. BOX 1041
NORTH VERNON, IN 47265
812-346-4731
January 5, 2022
Store Hours:
Closed Sunday and Monday
Open Tuesday thru Friday 10-4 p.m.
Saturday 10-2 p.m.
As the New Year begins, we want to THANK YOU for your continued support of our small business. We have 360 days with blank pages. Let's make the best of those "blank pages". I don't know about you but I have lots of things (read UFOs) I need to get done. Did you make resolutions? Did you tell yourself that you are going to get all those UFOs finished? Are you cleaning and organizing your sewing room and finding lots of UFOs that need to be completed? Well, if you did then let's get to work and get those finished. We have Sit 'n' Sews January 12th and 26th. This is a free service and you are welcome to come in and use our classroom. The times are 1 p.m. to 3:30 p.m. We have Sit 'n' Sew every other Wednesday unless we have a Shop Hop. This will be announced thru a newsletter and/or on Facebook.
A reminder when bringing in your sewing machine for service….we do not need the accessories such as extra bobbins, feet, etc. If your machine has a "stop/start" feature, we don't need the foot control. If you are bringing in an embroidery machine, we will need a hoop with fabric and stabilizer to test the embroidery. If you are unsure of what to bring, please call! Also, please remember that we do not service Husqvarna-Viking, Bernina, Brother, Baby-Lock or Pfaff. Thank you for your understanding.
This Saturday, January 8th is our first Sharynn's Stitching Friends meeting at 9a.m. here in our classroom. If you haven't joined yet, you can join at the first meeting or come in before then. It is $15.00 for the year. Please bring Show 'n' Tell. The final blocks in the Crayon Challenge will be given out.
We are working on our schedule of classes and we will be announcing them in the coming months.
Our remaining stock of Accuquilt dies are still on sale for 30% off. We will no longer be handling these.