Skip Navigation
Website Accessibility
Newsletter - January 18, 2022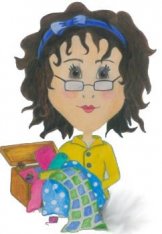 SHARYNN'S QUILT BOX
890 S. STATE STREET
P.O. BOX 1041
NORTH VERNON, IN 47265
812-346-4731
January 18, 2022
STORE HOURS:
CLOSED SUNDAY AND MONDAY
OPEN TUESDAY THRU FRIDAY 10-4
SATURDAY 10-2
Wow, we are into the middle of January already! Anyone got a UFO finished already? Need any help with fabrics, rulers, etc. we are here to help. Come in and let us help you solve those problems.
Be sure to bring in your projects and we'll post pictures on our Facebook page.
Are you thinking of upgrading your sewing machine? What about an embroidery machine? We have the Janome Memory Craft 15000 on special pricing. This machine comes with so many wonderful features. 510 built-in stitches and 980 embroidery designs are already loaded onto the machine. Largest hoop size is 9.1" x 11.8". This is one machine you will have to see to believe what all it does. The special pricing won't last long so come in for a quote. If you purchase a machine from us, you will receive a one- on-one class to learn whatever machine you purchase. We service in house. Darrell has 25 years experience servicing Janome machines. And Janome is a top rated machine.
We are preparing for the Charming Shop Hop which will be in April. Cathy is making our sample quilt and it will be special! We are excited.
We will have passports soon and we'll let everyone know when they come in. But put the dates on your calendar….April 6, 7, 8, & 9. Times are 10-5 each day. Participating shops this year are:
1) Tree City Stitches – Greensburg
2) Sharynn's Quilt Box – North Vernon
3) L & L Yard Goods – Madison
4) Margie's Country Store – Madison
5) Quilter's Nook – Versailles
6) Quilter's Garden – Lawrenceburg
If you are a member of Sharynn's Stitching Friends and have not picked up your challenge blocks for January (11 & 12), they are here waiting for you! We will also have Marty Michell's Smashing Sashing Stars rulers and instruction book available next month for setting you're blocks together.
Next Wednesday, January 26th is our next Sit 'n' Sew. Come and spend the afternoon sewing with us. There is no charge!