Newsletter - February 1, 2022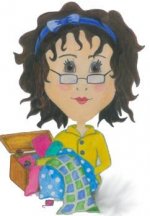 SHARYNN'S QUILT BOX
890 S. STATE STREET
P.O. BOX 1041
NORTH VERNON, IN 47265
812-346-4731
February 1, 2022
STORE HOURS
CLOSED SUNDAY AND MONDAY
OPEN TUESDAY THRU FRIDAY 10-4
SATURDAY 10-2
Sharynn and Darrell have made the decision to be closed tomorrow and Friday due to the incoming weather. We want to keep our customers and staff safe! So enjoy staying in and sewing! We'll post on Facebook about Saturday.
Dates to put on your calendar for February……
February 9th & 23rd …..Sit 'n' Sew days.
February 12th …..9a.m. Sharynn's Stitching Friends. We will have coffee and snacks and of course Show 'n' Tell! So be sure to bring what you've been working on.