Newsletter - February 8, 2022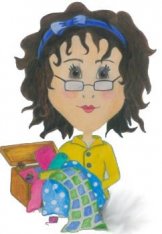 SHARYNN'S QUILT BOX
890 S. STATE STREET
P.O. BOX 1041
NORTH VERNON, IN 47265
812-346-4731
February 8, 2022
STORE HOURS:
CLOSED SUNDAY AND MONDAY
OPEN TUESDAY THRU FRIDAY 10-4
SATURDAY 10-2
We are again open our regular hours. We hope that everyone stayed safe and got lots of sewing done! We love when you bring in your projects for us to see. We just love to see what everyone is working on. So bring them in and we'll get pictures and put it on Facebook.
We have passports for the Charming Shop Hop in April. This shop hop is April 6, 7, 8, & 9 and hours are 10-5 each day. Passports are still $5.00 and when you visit each shop you will receive a free pattern.
Each shop will have a pack of 20 charm squares for $5.00 available for purchase. You will also receive 20% off any one book, pattern, notion, or cut of fabric.
Be sure to visit all 6 shops…..L&L Yard Goods, Margie's Country Store, Sharynn's Quilt Box, Tree City Stitches, The Quilter's Nook, and Quilters Garden. This makes you eligible for the Grand Prize of a Janome 3160 Sewing machine! Lots of other prizes will also be awarded. So put this on your calendar and join in all the fun!
We have Insul-brite back in stock. We love this for oven mitts, pot holders, even blankets, jackets, etc. You know how cold it gets when you are sitting outside at one of your kids or grandkids sporting events? You can use this either inside a blanket or to insulate a chair cover. The possibilities are endless. The only place you can't use it is the microwave!
New Janome Sewing Machines are on their way here!! Hoping to receive them sometime this week or next. We'll put it on Facebook when they arrive. There's one for you!
We have been an exclusive Janome Dealer since 1998. When you buy from us you have local service and help learning your machine. We also carry the different feet, bobbins, needles, etc. for your particular machine. A sewing machine is an investment and a well taken care of machine will last many years. So regular service is a must! Janome recommends that machines be serviced (depending on usage) every year to year and a half. That's another good reason to buy local.
This is our commitment to you our customers to always provide THE best service and training. We will be here for you long after you purchase your machine from us.
Sharynn's Stitching Friends will meet here in our classroom on Saturday February 12th at 9 a.m. Bring your Show 'n' Tell! Beth Steiner will show how to set your Crayon Challenge Blocks together using Marti Michell's Smashing Sashing Stars Set. This challenge ends on the 28th of February.