Newsletter - February 15, 2022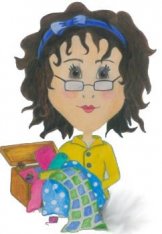 SHARYNN'S QUILT BOX
890 S. STATE STREET
P.O. BOX 1041
NORTH VERNON, IN 47265
812-346-4731
February 15, 2022
STORE HOURS:
CLOSED SUNDAY AND MONDAY
OPEN TUESDAY THRU FRIDAY 10-4
SATURDAY 10-2
We had a wonderful Sharynn's Stitching Friends meeting last Saturday. Thank you all for coming! We got the pictures posted to Facebook so be sure to check them out! We are really looking forward to the March meeting. A big thank you to Beth Steiner for showing us how she used the Marti Michell Smashing Sashing Stars ruler to put together her Crayon Challenge blocks. We can't wait to see all the quilts finished!
Some UPCOMING EVENTS:
Sit 'n' Sew next Wednesday, February 23rd from 1 to 3:30 p.m. March 9th and March 23rd. So mark your calendar and join us for an afternoon of sewing. There is no fee!
Also mark your calendar for the 16th Annual Spring Charming Shop Hop April 6, 7, 8, & 9. The hours at all the shops are 10-5 each day. Passports are $5.00. Each shop will have packs of 20 charms for sale for $5.00. You will also receive a free pattern at each shop when you visit during the shop hop. You will get 20% off any one pattern, book, notion, or cut of fabric (excluding sale fabric).
The Grand Prize is a Janome 3160 QOV edition. Other prizes are a basket of 60 fat quarters, 6-$50.00 Gift Certificates, & 6-$25.00 Gift Certificates. Each shop will also give away a gift basket which you can sign up for when you get your passport validated.
A reminder….prizes will not be shipped and must be picked up in person.
Shops participating are:
L&L Yard Goods – Madison, IN
Margie's Country Store – Madison, IN
Sharynn's Quilt Box – North Vernon, IN
Tree City Stitches – Greensburg, IN
The Quilter's Nook – Versailles, IN
Quilters Garden – Lawrenceburg, IN
A gentle reminder….when purchasing a passport for any shop hop we cannot take a credit/debit card. We will be happy to take a check or cash. Thank you for understanding and we are sorry for any inconvenience.
Cathy is working very hard on our quilt for the upcoming Charming Shop Hop. We are excited to see it finished. Cathy always does a wonderful job!
Remember to check us out on Facebook and like and share our posts