Newsletter - February 22, 2022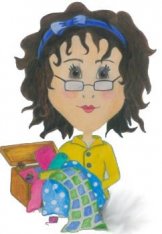 SHARYNN'S QUILT BOX
890 S. STATE STREET
P.O. BOX 1041
NORTH VERNON, IN 47265
812-346-4731
February 22, 2022
STORE HOURS:
CLOSED SUNDAY AND MONDAY
OPEN TUESDAY THRU FRIDAY 10-4
SATURDAY 10-2
Happy Twosday! We won't see this again! So hopefully you made the most of this day!
OK, let's get started….our first class this year will be the 60 degree Diamond table topper taught by Rita Holverson. This class will be March 26th (a Saturday) from 9:30 a.m. to 1:30 p.m. Class space is limited so call and get on the list. The cost of the class is $20.00 and MUST be paid before the class and is NOT REFUNDABLE. You will receive a list of what is required for the class and what needs to be done BEFORE you come to class when you sign up and pay. When you buy your supplies from us, you will receive a discount. Call early to reserve your spot.
If you don't have the 60 degree ruler, we have some in the shop or we will order for you.
New fabrics will be arriving soon along with Janome sewing machines. At least we've been told it is coming!! We will post on Facebook so watch our page.
UPCOMING EVENTS:
March 9th Sit 'n' Sew from 1-3:30 pm.
March 12th 9 a.m. Sharynn's Stitching Friends here in our classroom
March 23rd Sit 'n' Sew from 1-3:30 pm.
March 26th 60 Degree Diamond Ruler Table (info above)