Skip Navigation
Website Accessibility
Newsletter - March 1, 2022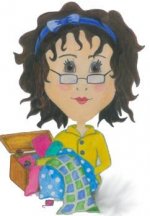 SHARYNN'S QUILT BOX
890 S. STATE STREET
P.O. BOX 1041
NORTH VERNON, IN 47265
812-346-4731
March 1, 2022
STORE HOURS:
CLOSED SUNDAY AND MONDAY
OPEN TUESDAY THRU FRIDAY 10-4
SATURDAY 10-2
It is a beautiful March day! A little cool but we'll take it! I'm sure everyone is looking at seed catalogs, watching the daffodils and tulips shoot up out of the ground and planning their gardens. Oh, we are still sewing but we catch ourselves thinking about the flowers and warmer days. Spring begins in less than 20 days!
We are about 6 weeks away from our 16th Annual Spring Charming Shop Hop… April 6-9, 2022. Hours at all the shops are 10-5 each day.
Passports are $5.00 and are on sale now at each shop. Prizes will be given away with the Grand Prizes are a Janome 3160QDC Sewing Machine, 6-$50.00 gift certificates, 6-$25.00 gift certificates and a Gift Basket with 60 Fat Quarters. Winners are chosen from completed passports so be sure to get to all the shops!
Participating Shops are:
L & L Yard Goods – Madison, IN
Margie's Country Store – Madison, IN
Sharynn's Quilt Box – North Vernon, IN
Tree City Stitches – Greensburg, IN
Quilter's Nook – Versailles, IN
Quilters Garden – Lawrenceburg, IN
Each shop will give away a gift basket, a free pattern, and you will receive 20% off any ONE book, pattern, notion or cut of fabric.
Packs of charm squares (20 in a pack) are $5.00.
We have begun to schedule classes again but we are limiting class size. Our first class is on the 60degree ruler table topper. We posted a picture on Facebook so check it out. If we get more than the "limit" we will have a 2nd class. So come in and sign up or call and you can use a credit card to sign up on the phone. Rita Holverson will teach this class. There is some "homework" to do before the class so you will receive this information when you sign up.
We have received new fabric from Blank and Wilmington Fabrics! We will post on Facebook as soon as we can. We have more to come so be looking for them.
UPCOMING EVENTS:
March 9th Sit 'n' Sew 1p.m. to 3:30p.m.
March 12th Sharynn's Stitching Friends 9 a.m. here in our classroom.
March 23rd Sit 'n' Sew 1p.m. to 3:30 p.m.
March 26th 60 Degree Ruler Table Topper Class 9:30 a.m. to 1:30 p.m.