Newsletter - March 8, 2022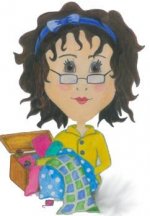 SHARYNN'S QUILT BOX
890 S. STATE STREET
P.O. BOX 1041
NORTH VERNON, IN 47265
812-346-4731
March 8, 2022
STORE HOURS:
CLOSED SUNDAY AND MONDAY
OPEN TUESDAY THRU FRIDAY 10-4
SATURDAY 10-2
We have been checking in fabric all day!! Such a happy feeling! We have new fabric from Blank, Wilmington, and QT. We also have new 108" wide backing fabric. We have posted some pictures on our Facebook page of these fabrics. Check them out. And remember to like and share our posts.
Sharynn's Stitching Friends will meet this Saturday, March 12th at 9 a.m. here in our classroom. Take note: Our April meeting has been moved to April 2nd because the 16th Annual Spring Charming Shop Hop will be in progress on Saturday, April 9th. So please mark your calendar with this change. We would like to have all the finished Crayon Challenge Quilts brought to the April meeting.
Do you have your passport yet for the 16th Annual Charming Shop Hop? Passports are still just $5.00 for a day (or 2) of lots of fun at quilt shops! There are prizes to be won and lots of new things to see. So be sure that you get your passport soon. (Please remember that we don't take credit/debit cards for passports).
Participating shops are:
L&L Yard Goods - Madison, IN
Margie's Country Store - Madison, IN
Sharynn's Quilt Box - North Vernon, IN
Tree City Stitches - Greensburg, IN
The Quilter's Nook - Versailles, IN
Quilters Garden - Lawrenceburg, IN
Each shop will have a pack of charms (20 in a pack) for sale for $5.00. At each shop you will also receive 20% off any one book, pattern, notion, or cut of fabric. You will receive a free pattern at each shop also.
All shops will be open 10-5 and some will have longer hours.
Grand prize winners will be drawn from completed passports.
Grand Prizes are:
Janome 3160QOV
Basket of 60 fat quarters
6-$50.00 Gift Certificates
6-$25.00 Gift Certificates
Each shop will also give away a basket of goodies!
Please remember that all prizes must be picked up in person.