Newsletter - March 29, 2022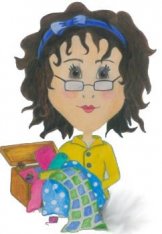 SHARYNN'S QUILT BOX
890 S. STATE STREET
P.O. BOX 1041
NORTH VERNON, IN 47265
812-346-4731
March 29, 2022
STORE HOURS:
Closed Sunday and Monday
Open Tuesday thru Friday 10-4
Saturday 10-2
We hope everyone had a great Spring Break. It's nice to relax, rest and refresh! So now we get back into the groove.
We will be having Sharynn's Stitching Friends Club meeting at 9 a.m. this Saturday, April 2nd. This date change is due to the Shop Hop falling on the second Saturday of April. If you have a Crayon Challenge Quilt, please bring it and we will hang all the quilts for the Shop Hop.
Rita Holverson's class "60 Degree Diamond Ruler Table Topper" was so popular that she is going to do another class on April 16th. Space is limited and several seats are already taken. Cost of the class is $20.00. So if you are interested, please come in to the shop to sign up and get your instructions. Class must be paid for before day of the class and it is NOT REFUNDABLE. Also, classes must be paid by check or cash. We do not take debit/credit cards for classes. Thank you for understanding.
The 16th Annual Spring Charming Shop Hop is next week beginning April 6th thru the 9th. The hours are 10-5 but some shops will be open from 9-5. We will be opening at 9 a.m. Passports are available at participating shops for $5.00. You will receive a free pattern using charm squares when you check in at each shop during the shop hop. Packs of 20 charm squares will be available for sale for $5.00 at each shop also. Plus you will receive 20% off any one book, pattern, notion, or cut of fabric. Each shop will give away a basket of "goodies" and you can sign up at each individual shop.

Prizes are a Janome 3160QDC Sewing Machine, 6 - $25.00 Gift Certificates, 6 -$50.00 Gift Certificates and a basket of 60 fat quarters. Winners for these prizes are chosen from completed passports.
We sure hope to see you next week!
Handi-Quilter Spring Cleaning Sale April 8-18, 2022!! When you purchase any HQ Longarm Package you will receive up to $500.00 worth of storage and organization accessories for free. Darrell has 2 AMARA longarms on special pricing thru the month of April. WE DO NOT GIVE PRICES ON THE PHONE! We only have 2 of these machines. We also have on the floor a Forte, Simple Sixteen and a Moxie. Come in and see what these machines can do. You will be amazed!
Also, we will be doing longarm classes May 12th and 13th. This is Thursday and Friday. These classes will be taught by Martha Higdon a Handi-Quilter Educator. These classes will cover Free-Motion Quilting, Free Motion Foundation for Feathers & Fills, Ruler Essentials, Backgrounds, Borders, and Blocks.
We will have more information (Cost, times, etc) next week.