Newsletter - April 5, 2022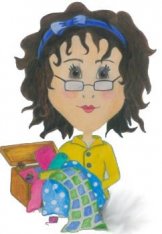 SHARYNN'S QUILT BOX
890 S. STATE STREET
P.O. BOX 1041
NORTH VERNON, IN 47265
812-346-4731
April 5, 2022
STORE HOURS:
Closed Sunday & Monday
Open Tuesday thru Friday 10-4
Saturday 10-2
Drum Roll Please……we have received our Janome sewing machine order!! We have received the M7, the Sewist 725S, an S9, S7, & S6. We also have the 4120 and 3160 in stock. We have one MC15000 embroidery machine also.
While we could describe these machines for you, why don't you just come in and see for yourself!! These are all awesome machines and Janome's bestselling machines. You can't stay in business for 100 years and not be doing something right!! You can check out these and all of Janome's machines at www.janomeamerica.com.
Now, it's Shop Hop Week!!! Got your passport?? You can still get one for just $5.00 even after the beginning of the Hop. Please remember that some shops will be opening at 9 a.m. and others will not open until 10a.m. We will be opening at 9 a.m. each day.
Please check us out on Facebook and you will see our quilt for this Shop Hop. It is a beauty! Also, check out all the beautiful projects made by our talented customers. We just posted several pictures from our Sharynn's Stitching Friends Club meeting last Saturday.
Also, come in and look at all the quilts that our talented gals made during our Crayon Challenge! We are hanging them for you to check out. These should give you lots of inspiration! They will be on display thru the month of April.
We have several spots left for our In-Shop Retreat this September 23rd & 24th. If you are interested, please call the shop for details. This event is always fun and a "sell-out", so call soon to get your name on the list.