Newsletter - April 12, 2022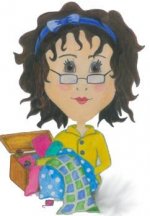 SHARYNN'S QUILT BOX
890 S. STATE STREET
P.O. BOX 1041
NORTH VERNON, IN 47265
812-346-4731
April 12, 2022
STORE HOURS:
CLOSED SUNDAY AND MONDAY
OPEN TUESDAY THRU FRIDAY 10-4
SATURDAY 10-2
We want to thank everyone who came to the Charming Shop Hop! It was very successful and we enjoyed seeing our friends that we don't see all the time! We hope that if you participated, you enjoyed it.
And the winners are:
Janome 3160QDC Kathy Bushong, Independence, KY.
Basket of 60 Fat Quarters Becky Biddinger
Sharynn's Quilt Box Basket Jill Wahlman, North Vernon, IN
Sharynn's Quilt Box $50.00 Gift Certificate Lynn Baugh, Versailles, IN
Sharynn's Quilt Box $25.00 Gift Certificate Joycelyn Albrecht, Moores Hill, IN
CONGRATULATIONS TO ALL THE WINNERS!!
A big shout out to all the gals who let us hang their Crayon Challenge Quilts. They were a big hit during the Shop Hop. Everyone loved them. If you have gotten your challenge quilt finished…bring it in and we'll still hang it.
NOTICE: We will NOT be participating in the Southern Indiana Shop Hop in June. But you are welcome to stop by … we'd love to see you!!
We are again having our In-Shop Retreat this year. Dates are September 23rd & 24th. Seating is limited and we only have a few spots left. So come in to pay your deposit of $30.00 (remember that we only take cash/checks for this) and reserve your place! We will be sewing from 9a.m. to 9p.m. on Friday and 9a.m. to 2:30p.m. Saturday. We are looking forward to it. We always have so much fun! If you need more information, call the shop.
Our Handi-Quilter Spring Cleaning Sale is still on until April 18th. There are specials on floor demos and when you purchase any Handi-Quilter package you will receive up to $500.00 worth of storage and organization accessories for free!! Can't beat that deal!! Darrell will also set it up in your home and teach you to use it.
We will be having longarm classes May 12th and 13th here in our classroom. Martha Higdon will be teaching these Free Motion quilting classes. She is a Handi-Quilter Certified Educator. You do not have to own a long arm to take these classes. Here is what the classes will cover: Free-Motion Quilting, Free-Motion Foundation for Feathers and Fills, Ruler Essentials, Backgrounds, Borders, and Blocks. We have 4 longarm machines and you will be given a chance to do "hands on". So even if you don't own a longarm machine, this will help you to decide if one is right for you.
There are two classes each day….9-12noon and 1-4p.m. If you take both day (all 4 sessions) it is $70.00 per day.
We want to remind everyone that Winding Waters Quilt Club will have a Quilt Show on May, 21st 10 a.m. to 4 p.m. at Stream Cliff Farms in Commiskey. There is no admission charge! And lunch is available at the famous Twigs and Sprigs Tea Room. Get your girlfriends together and go make a day of it!!