Newsletter - April 19, 2022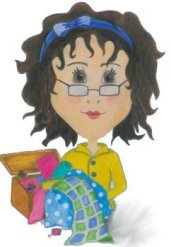 SHARYNN'S QUILT BOX
890 S. STATE STREET
P.O. BOX 1041
NORTH VERNON, IN 47265
812-346-4731
April 19, 2022
STORE HOURS:
CLOSED SUNDAY AND MONDAY
OPEN TUESDAY THRU FRIDAY 10-4
SATURDAY 10-2
We hope everyone had a very Happy and Blessed Easter!
Our first longarm classes this year will be May 12th and 13th here in our classroom. Martha Higdon will be teaching these Free Motion quilting classes. She is a Handi-Quilter Certified Educator. YOU DO NOT NEED TO OWN A LONG ARM TO TAKE THESE CLASSES! There are two classes each day…..9-12noon and 1p.m. to 4p.m. The cost is $70.00 per day for both classes. We have limited space so be sure to call and reserve your space as soon as possible.
Classes will cover Free Motion Quilting, Free Motion Foundation for Feathers and Fills, Ruler Essentials, Backgrounds, Borders, and Blocks. We have 4 long arm machines and you will be given a chance to do "hands on". So even if you don't own a long arm machine, this will help you to decide if one is right for you.
Our floor models will be on the Spring Cleaning Sale after the classes are over! So you can take the classes and then purchase a floor model on discount! A win/win deal! And when you purchase any Handi-Quilter package you will receive up to $500.00 worth of storage and organization accessories for free! So come talk to Darrell about a deal! He will also set it up in your house and teach you how to use it.
UPCOMING EVENTS:
May 11—Sit 'n' Sew 1-3:30p.m.
May 12 & 13—Handi-Quilter Classes (see above)
May 14—Sharynn's Stitching Friends at 9 a.m. here in our classroom. Come and join in the fun!
We have received our Janome Machines!! We have the M7 Continental in stock, Sewist machines, 4120s and 3160s! We also have Skyline S9 (embroidery), S7 and S6 models. All of these machines can and will meet your needs! Come in and see what you can do with one of these awesome machines.
We are having our FIRST Skinny Bolt Sale!! We have some bolts of fabric with only a few yards left on the bolt….so if you buy what is left on the bolt we will take 20% off!! When it's gone….it's gone!!