Newsletter - April 26, 2022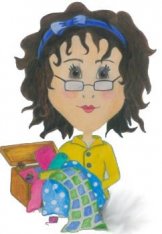 SHARYNN'S QUILT BOX
890 S. STATE STREET
P.O. BOX 1041
NORTH VERNON, IN 47265
812-346-4731
April 26, 2022
STORE HOURS:
CLOSED SUNDAY AND MONDAY
OPEN TUESDAY THRU FRIDAY 10-4
SATURDAY 10-2
Here we are….it's almost May! Kentucky Derby, Mother's Day, Graduations, Memorial Day Holiday and the Indy 500! So many events to keep us busy. But let's not get so busy that we don't have time to sew! Personally, I find it relaxing (at least until I have to get out "Jack the Ripper!") So with your busy schedule be sure that you take time for you. Don't forget that we have Gift Certificates available for Mother's Day or Graduations.
The Skinny Bolt Sale is in full swing and it's going fast. Take what's left and get 20% off! Some bolts have as much as 3 yards so this is a great sale! Check out our pictures on Facebook! We added more to the "pile"!
We have received some of our Halloween fabrics already. We posted a picture on Facebook. We love these colors.
Have you signed up for the Handi-Quilter Classes on May 12th & 13th? You don't need to own a longarm to take these classes. There are 2 classes each day….9-12 noon and 1 to 4p.m. The cost is $70.00 per day. We have limited space so be sure to sign up as soon as possible. These classes are filling fast.
Classes will cover Free Motion Quilting, Free Motion Foundation for Feathers and Fills, Ruler Essentials, Backgrounds, Borders and Blocks. We have 4 longarm machines and you will be given a chance to use them. So even if you don't own a longarm, this will help you decide if one is right for you.
Our floor models will be on the Spring Cleaning Sale after the classes are over. You will get great deals on these machines. Darrell will set up the machine in your home and teach you how to use it. Can't beat that!!
Remember to check out our Facebook page. Be sure to like and share our posts