Newsletter - May 3, 2022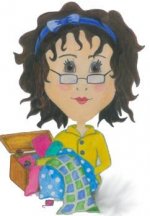 SHARYNN'S QUILT BOX
890 S. STATE STREET
P.O. BOX 1041
NORTH VERNON, IN 47265
812-346-4731
May 3, 2022
STORE HOURS
CLOSED SUNDAY AND MONDAY
OPEN TUESDAY THRU FRIDAY 10-4
SATURDAY 10-2
Here we are already into May….where did those 4 months go?? But we are happy to see the warmer weather and sunshine. We are loving all the beautiful flowers, green grass and trees blooming, etc. It's such a beautiful time of year. Time to spring clean and make everything light and bright. New table toppers and table runners will brighten up your house.
We have the Hollow Star Table Runner by Cut Loose Press and the Twirl-N-Spin Table Runner also by Cut Loose Press. Both patterns use the 60 degree ruler and will make a beautiful addition to your home for Spring!
We have "Champagne & Pearls" by Krista Moser and "Biggy The Bee" also by Krista Moser. Both patterns use the 60 degree ruler. So you have lots to choose from.
We have Mother's Day this Sunday. Don't forget to get your Gift Certificates for mom, gramma, auntie, sister, sister-in-law or your best friend. She doesn't have to be your "mom". It can be anyone who has been good to you. Show your appreciation this Mother's Day to the wonderful women in your life!
Our Skinny bolt Sale is still in progress. We put a few new ones out so be sure to come by and see if there are any that you "need"!
We have received the Janome M7. This machine was designed to meet all your needs with LED lighting, 7" HD screen, a 13.5" throat and many features that you won't find on other machines. It will easily tackle heavy weight home dec fabrics like canvas, etc. It has speed @ 1300SPM. Also, has a full metal frame – no light weight this one! It's built to meet your needs. You can also do free motion quilting and ruler work. Come in and check "her" out. She is ready to go to work for you!
We do still have a couple of "spaces" left for the longarm classes next week. These are "hands-on" free motion classes. You do not have to have a longarm to take these classes. Call to get your name on the list. Don't miss this opportunity.
UPCOMING EVENTS:
Sit 'n' Sew -- May 11th 1-3:30p.m.
May 25th 1-3:30p.m.
May 12th & May 13th -- Longarm Classes 9-12noon & 1-4p.m. both days
May 14th – Sharynn's Stitching Friends 9a.m. here in our classroom
May 28th – CLOSED for Memorial Day Holiday Weekend. We will be open on Friday the 27th and closed Saturday, the 28th and reopen on the 31st at 10 a.m.