Newsletter - May 10, 2022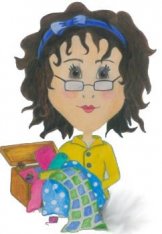 SHARYNN'S QUILT BOX
890 S. STATE STREET
P.O. BOX 1041
NORTH VERNON, IN 47265
812-346-4731
May 10, 2022
STORE HOURS:
CLOSED SUNDAY & MONDAY
OPEN TUESDAY THRU FRIDAY 10-4
SATURDAY 10-2
Have you ever noticed how "giving" fellow quilters are? They always seem to be so willing to share their wealth of knowledge with everyone. That's one of the "things" we love about all of our quilting friends. I'm sure that whoever taught you to sew did it willingly and lovingly. I know that the lady who taught me was like that. She was so eager to share her knowledge with me. And along the way, I've met so many of you wonderful ladies who are so gracious to share with me. To every one of these ladies…I say a big THANK YOU!!
Some reminders….when bringing in your sewing machine for service….if it is an embroidery machine and you are having a problem with the embroidery, please remember to bring a hoop with fabric, stabilizer, & embroidery thread to have it tested. Otherwise we will only service the machine and not test it. We DO NOT need all the different feet that go with your machine. Please leave them at home. If your machine has a "stop/start" button on it there is no need to bring in the foot pedal or power cord. Now that said if you have an older machine bring them in just in case!! Also, please remember that we do not service Husqvarna, Viking, Bernina, Brother, Pfaff or Baby Lock.
We have Longarm classes this week—Thursday and Friday. Martha Higdon will be teaching free motion quilting. We do have a few "seats" left for these classes. Call for details.
Sharynn's Stitching Friends will meet on Saturday, May 14th at 9 a.m. here in our classroom.
We still have a few bolts left on the Skinny Bolt Sale…..come get them. We might add a few more!
We are again having our In-Shop Retreat….September 23rd and 24th. Seating is limited but we do have a few spots left. We start sewing at 9 on Friday and can sew until 9p.m. On Saturday we begin at 9 and after lunch we have Show 'n' Tell. We end at 3p.m. We do have lots of fun! So if you want to do a retreat that is close to home and won't break the bank, call us for more information.
Also, a reminder that we will not be participating in the Southern Indiana Shop Hop this year. But if you are in the area, stop in and see us!