Skip Navigation
Website Accessibility
Newsletter - May 17, 2022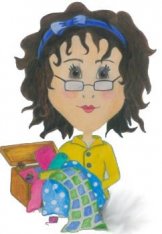 SHARYNN'S QUILT BOX
890 S. STATE STREET
P.O. BOX 1041
NORTH VERNON, IN 47265
812-346-4731
May 17, 2022
STORE HOURS:
CLOSED SUNDAY & MONDAY
OPEN TUESDAY THRU FRIDAY 10-4
SATURDAY 10-2
We know that this time of year is very busy with proms, kids field trips, graduations, bridal showers, baby showers, weddings, etc. but remember to take a deep breath and take time to relax. Maybe sew for a while. I find that it always makes me slow down (if I don't, I make mistakes!). If you don't have anything under your needle (can't imagine that!), stop in and see us. We'll help you find a new project!
We have some new patterns, rulers and of course lots of fabric! We have several new patterns using the 60 degree ruler. These are by Cut Loose and Krista Moser. And we have the Binding Tool (ruler) back in stock. We have both the large and small. Cathy has made a sample "small quilt" using the Binding Tool. We posted a picture on Facebook. Check it out and come in and we'll help you get started on this unique project. The possibilities are endless!
We have posted pictures from our Sharynn's Stitching Friends meeting last Saturday on Facebook. We had so much fun and we were so happy to see so many smiling faces! And a big thanks to everyone who participated in the Crayon Challenge. We had so much fun with this challenge! Leslie Holley was the winner of the box of beautiful Janome thread. After our June meeting, we will be hosting Valerie Robinson who will be presenting a challenge to us on making and developing our own ideas for making small (no bigger than 36"x36") quilts. She will show us how to come up with ideas to make a small quilt that is uniquely yours. She will help you develop your own design using your creativity. Call us for more details. This presentation is open and not just for members of Sharynn's Stitching Friends.
Now that our Handi-Quilter Free Motion Class is over, Darrell has the floor models on mark down. Come see him for prices. We have the Forte 24" with/without Pro-Stitcher, Amara 20" also with/without Pro-Stitcher. We have a Moxie 15" and Simply Sixteen 16" both of which are on frames. These machines have full warranty from Handi-Quilter.
We have pulled more "Skinny" bolts and put them on the sale. Most have 2 yards or less.
We have also been cleaning the store room and we have grab bags. These are a ½ lb of fabric in various colors. Don't have a lot! They are priced at $8.00 each.
Also there are "new" bolts in the Sale Bin!!
A reminder….we will be closed on Saturday, May 28th for the Memorial Day Weekend. We will reopen on Tuesday, May 31st at 10 a.m.