Newsletter - May 24, 2022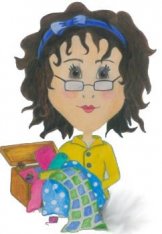 SHARYNN'S QUILT BOX
890 S. STATE STREET
P.O. BOX 1041
NORTH VERNON, IN 47265
812-346-4731
May 24, 2022
STORE HOURS:
CLOSED SUNDAY & MONDAY
OPEN TUESDAY THRU FRIDAY 10-4
SATURDAY 10-2
We are fast approaching Memorial Day and all the festivities of the Indy 500, graduations and the parties, weddings and the parties and just family time maybe cooking out or just gathering with family and friends in the backyard. Of course, if you are a gardener you've got most of your plants in the ground. This time of the year there is so much to do and we are all so busy. But make sure that you take time for you. I try to make sure that I get at least an hour or so of sewing or just spending time in my sewing room organizing or thinking about the next project! And I'm thinking of fall projects and looking at patterns and fabric! I have also found a few more projects that were started but not finished. They are now on the priority list! I'll try to get those done first but you know how that is! I'm easily distracted!
If you are busy with all the festivities of May and June, why not bring in your sewing machine for service. These machines need service every year to year and a half. Don't neglect your "best friend"! No need for an appointment either.
Don't forget that we will be closed on Saturday, May 28th for the Memorial Day Holiday. We will reopen on Tuesday, May 31st at 10 a.m.
On June 11th at 10 a.m. Valerie Robinson will be here to present a class on small challenge quilts. These quilts are no larger than 36"x36". There is no pattern just your imagination! Valerie will give you "guidelines" to help you design your quilt. A fat quarter is used (you will need to purchase). Everyone will use the same fat quarter. The idea is to develop your "pattern" around this fat quarter. There will be two other sessions to help you with your project. Please call to reserve your spot or if you have questions. This will be such a fun class! Valerie has lots of experience in making these miniatures. We will post her miniatures on Facebook next week.
Our In-Shop Retreat in September is full. If you were thinking of signing up, you can call and we can put you on the "wait" list. And if someone has to drop out, we will call you on a first come, first serve basis. We love doing this retreat for our customers as we have so much fun!
And if you have already signed up but not paid your deposit, you can do that any time. But please remember that this is a cash or check "deal". Thank you for understanding.
Rita Holverson will be teaching the Fold 'n' Stitch Wreath class on October 15th, just in time for the Holidays. This class will be $20.00. Class space is limited. We are asking you to let us know if you are interested in taking this class. We just want to get you signed up and then we will contact you concerning times, etc. So if you are interested, please call and get your name on the list. We will only have this class one time this year.