Newsletter - June 21, 2022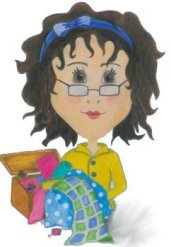 SHARYNN'S QUILT BOX
890 S. STATE STREET
P.O. BOX 1041
NORTH VERNON, IN 47265
812-346-4731
June 21, 2022
STORE HOURS:
CLOSED SUNDAY AND MONDAY
OPEN TUESDAY THRU FRIDAY 10-4
SATURDAY 10-2
The Facebook account "SHAYRNN PIATT PATTERSON" has been hacked. Please don't accept any friend request from this account. It has been reported to Facebook.
Today, June 21st summer begins. This is the longest day of the year and the first day of summer! So with this being the longest day….(there's still only 24 hours in the day! It's just the longest day of daylight!)…you can get lots done. Gardening, yard work and lots of other things. I prefer sewing! Don't get me wrong, I do love gardening but sewing is still number 1! What are you working on? We'll put a post on Facebook asking this question, please let us know!
If you are signed up for the Braided Table Runner Class on August 13th, you will need to come in and pick up a Supply List for the class.
We also have a couple of spaces open in the Fold 'n' Stitch Wreath class on October 15th. So if you have wanted to make one of these but are unsure of how to do it, call and sign up. The cost is $20.00 plus the cost of the pattern and any supplies you need to purchase. Rita Holverson is teaching both of these classes.
SUMMER PRICE CUT—on all Handi-Quilter floor models!! We only have 4 left. When you purchase a floor model, you will receive full warranty, training, and technical help. Call Darrell for pricing or come in and test them out! We are sure you'll find one you like!
Some upcoming events:
We will be closed July 2nd for the Holiday weekend. We will reopen on Tuesday, July 5th at 10a.m.
Sharynn's Stitching Friends will meet on July 9th at 9 a.m. here in our classroom. Come and enjoy some refreshments and great sisterhood! We will share news and ideas and Quilt Shows and Craft Shows. Come and join in the fun. You can join that day or whenever you are in the shop. Fifteen dollars gets you in!
Some of the new Christmas fabrics are here and we posted a picture on Facebook of a wallhanging that Cathy made using the new fabrics. Check out our Facebook page and like and share.