Skip Navigation
Website Accessibility
Newsletter - July 5, 2022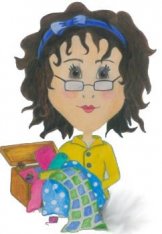 SHARYNN'S QUILT BOX
890 S. STATE STREET
P.O. BOX 1041
NORTH VERNON, IN 47265
812-346-4731
July 5, 2022
STORE HOURS:
CLOSED SUNDAY AND MONDAY
OPEN TUESDAY THRU FRIDAY 10-4
SATURDAY 10-2
We hope everyone had a wonderful 4th of July!
We learned of a problem with our website just before the holiday. If you tried to shop from the website and got the error message, we have it fixed now. We apologize for the inconvenience and we hope that we have the gremlins out of our system. Technology is great!!
We think that we have the "problems" with Facebook solved. Please keep your fingers crossed!!
Sharynn's Stitching Friends will meet this Saturday, July 9th at 9 a.m. here in our classroom. Please bring your Show 'n' Tell. Did you participate in the Crayon Challenge and not complete it? If so and you have your quilt finished now (or at least put together) bring it in..we'd love to see it!
Are you in the market for a new sewing machine? If so, we have Janome's best selling machine the 4120 QDC(T) in stock! This is a great all purpose machine with 120 different stitches, extension table, scissors, stop/start button and comes with a ¼" foot and walking foot. We have been informed of a price increase so come and get yours now before this goes into effect.
Mistletoe Magic by Blanks is in and Cathy made a wallhanging using the panel. This is Christmas fabrics and so pretty. We posted a picture of Cathy with the wallhanging and Martha Higdon, Handi-Quilter Educator quilted it for us. We posted a video of her quilting it on Facebook. She did it all free-motion! And she did a wonderful job on it too.
Is a quilt machine in your future? Don't wait for the future..come see Darrell. He has some great deals on our demo models. All of the floor models are priced to move. He has a Moxie demo model set up ready to go and will be selling this machine below show price! The price is so low that we can't advertise it! Come and see what this little beauty can do!