Newsletter - July 26, 2022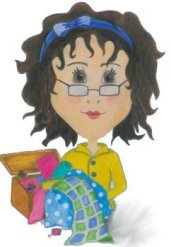 SHARYNN'S QUILT BOX
890 S. STATE STREET
P.O. BOX 1041
NORTH VERNON, IN 47265
812-346-4731
July 26, 2022
STORE HOURS:
CLOSED SUNDAY AND MONDAY
OPEN TUESDAY THRU FRIDAY 10-4
SATURDAY 10-2
We got some much needed rain. We hope that you were able to get some sewing done or clean out your sewing room. Or come into the shop and find a new project to start. We have some new panels and we have some that are on 25% off sale. The new panels are NOT on sale.
We have received 10" Layer Cakes and 5" Charm Squares from Quilting Treasures in Floral Cache. These fabrics are so pretty. They are small flowered prints reminiscent of the 1930's. We will post a picture on Facebook.
We have also received some of our order on OMNI thread in cones. We received Natural White, Cream, Medium Gray, Light Pink and Rusty. So if you were looking for these colors, come in soon!
We have a new panel "The Vintage Camper" sewing machine cover. It is so cute. We will post a picture on Facebook but if you take your sewing machine with you camping…you need this one!
And we have Donna Robertson and Fran Morgan's "Make It Christmas" with 3-yard quilts book back in stock. We have all of their books in stock. These are always quick and easy quilts and make wonderful gifts. These books give you instructions for making lap/throw quilts but also give yardage for twin or queen/king size. Come in and check these out.
Just a reminder, we do ship (and there is a shipping fee). You can go to the website….www.sharynns.com or call us during regular business hours. We try to ship the orders out the same day we receive them.
Mark your calendar for Sharynn's Stitching Friends on August 13th at 9 a.m. here in our classroom.