Skip Navigation
Website Accessibility
Newsletter - August 2, 2022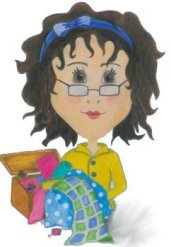 SHARYNN'S QUILT BOX
890 S. STATE STREET
P.O. BOX 1041
NORTH VERNON, IN 47265
812-346-4731
August 2, 2022
STORE HOURS:
CLOSED SUNDAY AND MONDAY
OPEN TUESDAY THRU FRIDAY 10-4
SATURDAY 10-2
WOW!! It's already August. Where has the time gone?? The kids will be heading back to school yet this week. We hope that with all that going on that you still have time to sew! It's important to take time for yourself.
Sharynn's Stitching Friends will meet on Saturday, August 13th at 9 a.m. here in our classroom. Don't forget your Show 'n' Tell. We love to see what you are working on.
Rita Holverson will also teach the Braided Table Runner Class at 10:30 on August 13th. If you don't already have the list of what supplies you need to bring for the class, stop by the shop to pick up a copy.
Another reminder…to please pay the remainder of your deposit on the In-Store Retreat. It is due now! It will be so much fun and we are all looking forward to hosting every one of you!
Are you in the market for a new machine? We have the Skyline Series and we have the 3160QOV and the 4120QDC(T). The Skyline Series is a wonderful series of machines beginning with Skyline 9 which is an Embroidery and sewing machine with 250 built-in including 4- exclusive designs by Anna Marie Horner. It has 16 fonts for monograming with design transfer via WI-FI, USB, and direct PC connection.
We have the Skyline S7 and S6 both of which are sewing only machines. These machines have top of the line features that you only find on more expensive models. Be sure to come in and check these out. Remember that we service what we sell and we provide support in the form of a class to help you learn your machine. Come in and check out these great machines.
Remember that our website (www.sharynns.com) is always open for your shopping pleasure!
Please like and share our posts on Facebook.